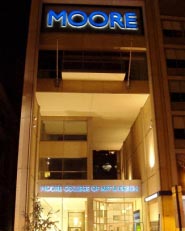 10 years of
The Secret Cinema at Moore College of Art & Design
..a look back
With a screening being prepared to celebrate the 10th anniversary of showing films at our favorite venue, this seemed like a good time to reflect on the highlights of a decade in the dark.
1997, the fifth year of the Secret Cinema, began rather slowly for us. In fact, for the first (and last) time, we found ourselves with no regular venue to show films. That situation did not last long, but new SC outlets like Northern Liberties' fondly-remembered Lionfish coffee house, with a maximum capacity of 43, could not accommodate our ambitions.
That was also the year that Secret Cinema began experimenting with presenting "Philadelphia Premieres" of independent films that were available on 16mm (more on that later). We rented a hall to show Jeff Feuerzeig's documentary Half Japanese: The Band that Would Be King, which was a great success. We came to realize that having access to a bigger space than we were used to -- but perhaps not as big as the 1000+ capacity Trocadero, where we ran a short-lived film series -- would be a good thing.
The possibility of showing films at Moore became known thanks to the advice of two acquaintances in the local film community, George Stewart and David Grossman. Stewart (who now does special programming for the Philadelphia Film Festival), was working in Moore's audiovisual department at the time, and let it be known that Moore wished to pursue hosting a film series. Grossman, a legendary figure in local repertory cinema, played a no-less important role. He was then running his "Film Forum" series, after years of film programming experience at Temple University's Center City campus and at his own art house in Moorestown, NJ. Approached by administrators at Moore eager to start a film program, Grossman reportedly so offended them with his caustic personality that they wanted nothing more to do with him! SC founder Jay Schwartz, after hearing form Stewart that Moore's auditorium might be available, consulted with Grossman, who advised that the situation might be ideal for Secret Cinema. Schwartz had not set foot in the auditorium of the all-women's art school since his freshman year of college, when he witnessed a concert by the long-lost Philadelphia rock group Dialogue. (More Moore auditorium trivia: We later learned that cartoonist Robert Crumb had given a lecture in the room in the early-1980s. The lecture was filmed, and the footage was subsequently used in the 1994 documentary Crumb).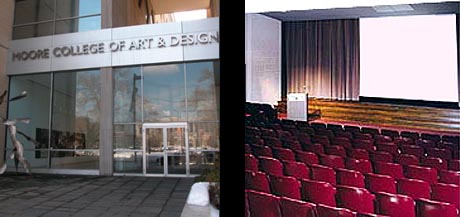 The room was clearly ideal for Secret Cinema screenings: a real theater with comfortable, tiered seating, each with perfect sight lines of the 15' wide screen. After years of moving tables and chairs in coffee houses, and covering their windows with giant sheets of black plastic to keep out ambient street light, this seemed like a good thing! There was even a nice stage and podium for occasional special events.
Meetings were arranged, first with Moore's librarian, and eventually with Louise Curl Adams, Moore's Director of Co-curricular Programming, who would become Secret Cinema's guardian angel at Moore over the next decade. It was agreed that SC would use the auditorium once per month during the academic year.
The first program of the officially named The Secret Cinema at Moore College of Art & Design (as per the written agreement between the college and Secret Cinema it must always be called that, which we took as a compliment) was our second experiment with showing a new movie that had been otherwise unreleased in Philadelphia. So Wrong They're Right was a clever pop-culture documentary about a forgotten recorded music format, the 8-track tape, made by fanzine publisher Russ Forster. This seemed potentially even more perfect for Secret Cinema to show than a film about a semi-obscure indie rock band, and it was booked for six screenings (however, since we only had use of the Moore auditorium for one day per month, the other screenings were held at Fergie's Pub). There were only 31 paying customers that first night, and that was spread over two screenings. Far less significant bookings at other Secret Cinema venues of the time were doing better business.

The next few months caused even more worry. There were 32 who came for a showing of the early Dennis Hopper art-horror film Night Tide, but most of those only came to see a local filmmaker's preceding short subject (and left when that was over). The caveman horror "golden turkey" classic Eegah! drew just 7 paying customers. We could not figure out why we were getting better numbers at our coffee house shows than in this ideal film viewing room, but a friend who lived just blocks away, near Rittenhouse Square, provided a clue: "I don't really know where the college is; that whole area North of Market Street just seems kind of desolate."
We knew that we had to follow the advice of exploitation filmmaker Herschell Gordon Lewis. "To complete as an independent, you have to provide a product that the majors can not, or will not, produce." OK, we thought that we always did that with Secret Cinema. We always showed films nobody else showed. To Lewis, that credo meant inventing the cinema of gore with Blood Feast and Two-Thousand Maniacs. For Secret Cinema, it now meant getting even more publicity than usual.
That finally happened in January of 1998, with a program called Scopitone Party, a program that celebrated the '60s French-made film jukebox machine (and the retro French pop music that was just becoming trendy with hipsters). Several original Scopitone clips were shown, together with something new for Secret Cinema, an actual lecture by Jay Schwartz on the 57-year history of the film jukebox, illustrated with slides of rare advertising material. There were picks and feature articles in every local newspaper, and on a rainy night in winter, the Secret Cinema at Moore finally broke the 100 mark with attendance. People finally figured out how to get to 20th & Race Streets, and were delighted with the venue. There would be no turning back.

The increased capacity and giant screen inspired better and better special programming. The first of several screenings of silent films happened that year, with live music by master accompanist Don Kinnier of Lititz, Pa., who forged a long partnership with Secret Cinema. The silent films were chosen with the idea of not showing the standard, classic war-horses of modern silent film screenings like The Gold Rush and Battleship Potemkin. Thus we went with sado-masochistic morality play He Who Gets Slapped, religious propaganda melodrama The Blasphemer, silent W.C. Fields comedy It's the Old Army Game, Chinatown underworld exploiter The Tong Man, and our favorite silent program, Early Educational: Classroom Films of the Silent Era. Oh wait, our other favorite was A Tribute to the Siegmund Lubin Film Studios of Philadelphia, which included not only several shorts from the local silent mogul, but a fascinating slide talk by the world authority on Lubin, Joseph Eckhardt, plus a discussion (and screening) of an important lost Lubin film miraculously discovered by Jay Schwartz (with Eckhardt's help).
We continued the search for "Philadelphia Premiere" candidates -- new films unseen in Philadelphia that would fit into our programming -- for as long as it remained feasible. While this exposed some interesting films (especially documentaries), it was done mainly as a crafty way to expand the Secret Cinema audience to film fans who didn't normally check the repertory films listings. Amazingly, our tiny operation achieved parity with the Ritz by actually getting these films into the review sections of the Inquirer and the weeklies. It stopped being feasible when distributors (and most of the world) stopped using 16mm film. But while it lasted, we showed Nick Broomfield's look at the world of dominatrixes Fetishes, the Todd Phillips' produced Screwed: Al Goldstein's Kingdom of Porn (with soundtrack contribution by local band the Strapping Fieldhands, who made sure to attend), and internet sex mockumentary The Love Machine. Yes, we discovered that sex still sells, but we also showed the "theatrical premiere" of Andrew Repasky McElhinney's first feature Magdalen, the indie rockumentary Songs for Cassavetes, and a fine documentary about experimental film pioneer Stan Brakhage.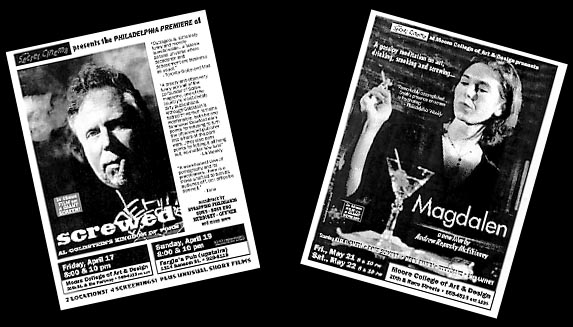 In these early years, we fine-tuned the projection in our new home. We started using the same classroom grade 16mm projectors that we'd been using in all of our small venues, but soon realized that to take full advantage of the 15 x 11 foot screen was going to take a little more candlepower. We searched for and found brighter "auditorium" projectors, which immediately needed repairs, until we eventually had a working pair (two projectors are needed for continuous projection of multi-reel films). Then we had to set about finding a pair of just the right lenses to fill the screen correctly -- which is actually two lenses (a primary and zoom attachment) for each projector. Since all of this 16mm film equipment was officially obsolete, we had to do extensive searching in the "aftermarket" for this equipment, at a time before you could find nearly everything on ebay.
We did a similar upgrade to our sound system after buying one for the outdoor film series we began presenting at Penn -- the same system worked perfectly in the Moore auditorium. Previously we had been at the mercy of an under-powered, badly designed sound system that had been built into the room in the 1960s.
Discovering that a mysterious film he had wanted to view for more than 20 years was finally being screened again in New York led Jay Schwartz to booking what was the biggest box office hit in Secret Cinema's history. He suspected that Andy Warhol's film The Velvet Underground and Nico would draw a crowd, but not one that would wrap around the block of the college while waiting to get in. It was initially only booked for a single screening, and we had to turn many people away, even after letting people sit on the floor after all seats were filled. Of course this show was booked again, and eventually expanded into The Velvet Underground Film Festival, screening nearly all extant footage of the legendary rock group.
This led to several other Andy Warhol films being shown, including The Chelsea Girls, a three-and-a half-hour happening that uses two projectors simultaneously. This was another popular offering, but perhaps the most memorable Warhol screening was of the relatively minor film Kitchen, starring Edie Sedgwick. The evening's previously leaden pace was livened considerably by the unforgettably manic post-film discussion by Warhol/Velvets biographer Victor Bockris, who introduced the film by explaining its importance, and then seemingly took it all back after watching the film.

Bockris was one of 14 guest speakers that have attended Secret Cinema screenings at Moore. These ranged from the somewhat famous (rock musicians Lenny Kaye and Stewkey from the Nazz, at this year's sold-out Nuggets program of music films; sixties supermodel and Blow Up star Veruschka; pioneer New York indie filmmaker Amos Poe) to the obscure, and sometimes miraculously excavated from the past (like Jim Leonard, art director of the 1957 local film noir The Burglar; Gino Aurelli, who recalled with precision how he directed an industrial film during the building of the Walt Whitman Bridge; and most of the North Philly gang members who created the incredible 1967 short The Jungle).
Sometimes guest speakers were just one dimension of a special film night. For a 1997 40th anniversary screening of the locally made horror classic The Blob, Blob expert Wes Shank spoke about the film's production, displayed posters and miniature sets from the film, and lovingly shared his most prized collectable, the actual Blob that was photographed (he even let the braver audience members touch it!) The Colonial Theatre in Phoenixville, where part of the film was made, was at that time dark and in danger of being demolished. The saved, revitalized theater now hosts an annual "Blobfest" that is very similar to our 40th anniversary Halloween show.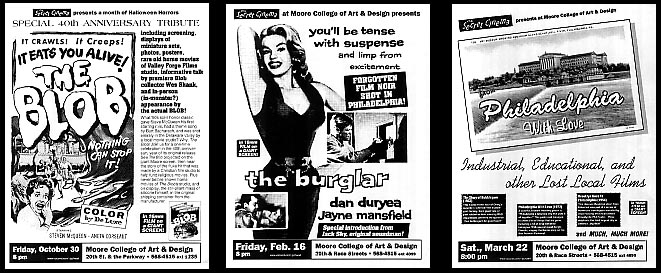 When we reintroduced local audiences in 2001 to The Burglar, a forgotten film noir movie produced in Philadelphia and Atlantic City by veteran industrial filmmaker Louis Kellman, we did more than just show the film -- we turned the evening into a tribute to Kellman's important yet unsung studio, with talks from art director Jim Leonard, Kellman's son Brian (who came down from New York for the occasion), and screenings of a Kellman short made for City Hall and an episode of the Kellman-produced children's show Diver Dan.
Forgotten Philadelphia film production has been a longtime special interest of the Secret Cinema, and our multi-episode presentations From Philadelphia With Love: Industrial, Educational and other Lost Local Films have been among our most popular special programs, showcasing shorts like Fleer Gum's The Story of Bubblegum and the 1954 travelogue Brooklyn Goes To Philadelphia.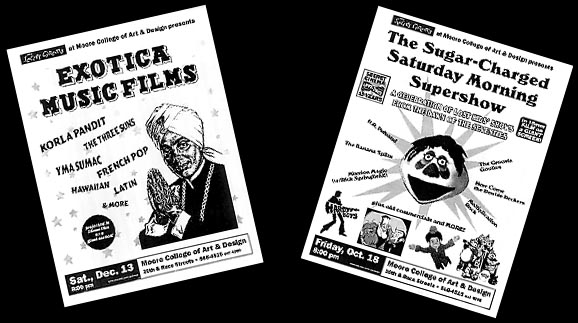 Themed groupings of short films like this have been our most popular attractions, probably because they are rarest offerings, with films that are almost all impossible to see any other way. Most of these film prints come from the ever growing Secret Cinema archive, and many are thought to be the only extant prints in the world. We've presented no less than fifty such shorts programs in the last decade, inlcuding Hollywood vs. Hitler: Cinematic Spoofs of the Third Reich; Nuggets: Celluloid Artyfacts of Sixties Rock; The Secret Cinema Afterschool Special; Bon Voyage: Vintage Travel Films; The Rainbow is Yours: Color in Ephemeral Films; Totally Wired: The Films of Bell Telephone; A Loving Tribute to Shemp Howard; and one of our guilty pleasure favorites: Boring Films.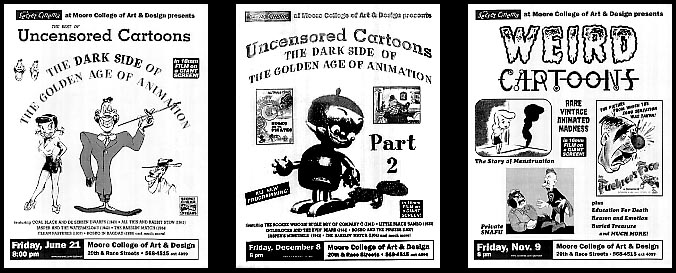 Also ever-popular were animation programs, especially several nights of Uncensored Cartoons: The Dark Side of the Golden Age of Animation, which focused on the politically incorrect. These were eclipsed attendance-wise only by the program Weird Cartoons. Other nights featured homages to animation masters Tex Avery and Max & Dave Fleischer.
Most of our programs feature stuff not shown elsewhere, but that was never more true than in January 2000, when we presented Other People's Movies in Concert. In the early 1990s we explored our fascination with home movies with our original Other People's Movies programs at Silk City Lounge, in which we projected found home movies of total strangers (along with home movies brought in by the audience). In 1999 at the Print Center, we upped the ante by making a program of the best of these found films, with an original score played by a live band. The music was performed by indie rock musician friends, who not only did an amazing job, but named themselves The Secret Cinema Symposium for the occasion (honest, we didn't make them do it!). This program sold out and was repeated two more times. The January 2000 show at Moore was the most successful. It's one of the very highpoints of our history.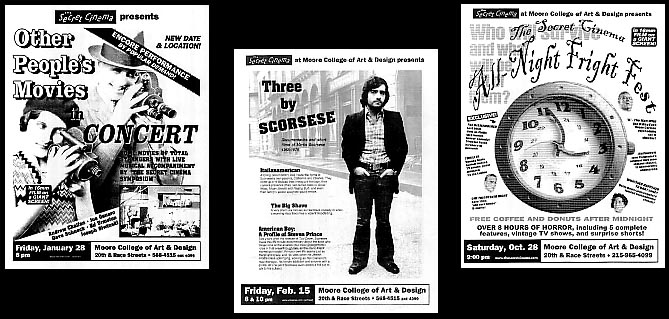 Of course we did show feature films as well as shorts. There were 69 of them, ranging from Riot on Sunset Strip to The Great Rock 'n' Roll Swindle; from the 1925 Raymond Griffith comedy Paths to Paradise (missing, as with all extant prints, it's final reel!) to the 1998 local production Magdalen, and many more along the way. At last year's Halloween All Night Fright Fest we showed five horror features, one hour-long TV show and several shorts, until the sun arose -- interrupted only by a free coffee and donuts break.
Well, we could go on an on. In ten years we've done 122 screenings of 87 different programs at Moore. 50 of these were original programs of shorts. There were 69 feature films and a whopping 486 short films (some of these numbers are necessarily approximate; if anything they are likely higher).
There have been other important venues for Secret Cinema in the last decade (like our popular outdoor series at Penn, the special programs we've done in partnership with many local museums and institutions, and several SC screenings in theaters and festivals in other cities and other countries). But Moore is our favorite place to show films. It's where our work is shown to its best advantage. It's the place that feels like home, and it inspires us to do our most adventurous programming.
For all of this, we'd like to give thanks:
To staff at Moore College of Art & Design present and past: Louise Curl Adams, Emily Johnson, George Stewart, Ken Ferretti, Laura Carothers, Molly Dougherty, Chuck Dukane, Amanda Mott, Steve the electrician, and the security guards.
To the loyal Secret Cinema staff: Silvia Hortelano, John Joy, David Snyder, and Alice Krupit.
To others who helped, behind the scenes: Bob Hermann, David Litofsky, Ray Rooney, Lou DiCrescenzo and the late David Grossman.
And most of all to the audience, who came out to watch our offerings (even Boring Films!).
We'll do our best to keep it going another ten years.

- Jay Schwartz

September, 2007