Last Updated: 2/20/17


ALL SECRET CINEMA PRESENTATIONS ARE SHOWN IN 16MM FILM ON A GIANT SCREEN (NOT VIDEO...NOT EVER!)
---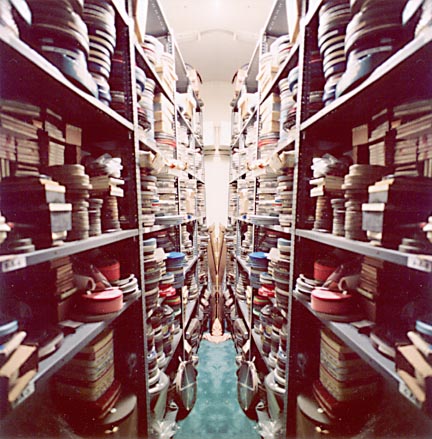 Secret Cinema celebrates 25 years with
The Best of Secret Cinema Short Films: The Early Years
Friday, March 10, 2017
8:00 pm
Admission: $9.00
The Maas Building
1325 N. Randolph Street, Philadelphia, PA
267-239-2851
On Friday, March 10, we will present what will be for us, at least, a very special screening at the Maas Building, called The Best of Secret Cinema Short Films: The Early Years. That's because twenty-five years and one day earlier marked the very first Secret Cinema screening!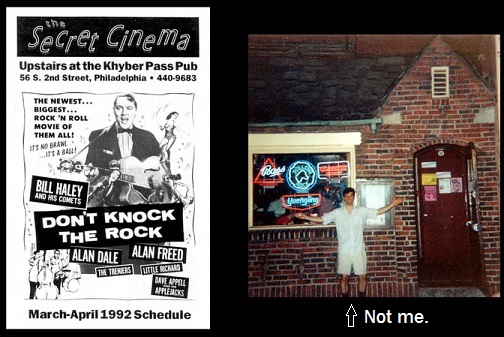 Yes, it is now twenty-five years since we first carried our 16mm projector (we only had one then) up the steep stairs to the second floor of the Khyber Pas Pub. We began our series there with a screening of Don't Knock The Rock (plus "unusual short films"). Since then, there have been as many as 1000 Secret Cinema screenings (we're not exactly sure how many, but that is probably close to accurate), attended by thousands of people, in over 100 venues. We're very happy to still be here!
During 2017, we plan to revive several of our most popular programs, possibly a few unpopular ones, and will also continue presenting brand new programs. The Best of Secret Cinema Short Films: The Early Years will be the year's first anniversary event, and will include miscellaneous audience favorites that were shown in our first five years. These films, which include rare educational, advertising, musical and theatrical short subjects (and maybe a found home movie), are all very unlikely to be seen elsewhere. Some of them were featured in past "best of" programs…while others have not been shown again since 1992! (In the interest of variety, no titles will be repeated from our last "Best of shorts" program, which was shown June 2015, also at the Maas Building.)
Just a few of the titles to be screened are Let's Have a Tea (campy, Kodachrome 1940s etiquette film), Whatta Built (amusing theatrical short about body builders), Sponge Divers of Tarpon (actually fascinating 1932 documentary about Florida sponge industry), Latin Soundies (1940s musical performances photographed for a film jukebox, including "Chaquita Banana"), and Yours, Mine, Ours (1960s Technicolor fun teaches grade school kids respect for others' property)…plus much, much more.
There will be one complete show at 8:00 pm. Admission is $9.00. Beer and refreshments will be available at the screening.
The Maas Building was previously a brewery and a trolley repair shop. This beautifully restored 1859 brick and timber workshop today serves as a multipurpose art event and catering space. Free parking is available on the street and in the adjacent lot of the James R. Ludlow Elementary School.
---
FUTURE SECRET CINEMA EVENTS (more info soon):
Tuesday, April 11, 2017 @ CHFG/Woodmere Art Museum: The Kid Brother
Wednesday, April 19, 2017 @ The Rotunda: TBA
Thursday, May 11, 2017 @ Bryn Mawr Film Institute: Trailer Trash
---
If you'd like to subscribe to announcements of upcoming Secret Cinema events, then e-mail us by clicking HERE. Please specify in your message where you are located.
Click HERE to learn the history of Secret Cinema.
Click HERE to read about recent Secret Cinema events.
RELATED LINKS:
Channel 29 news piece on Secret Cinema from 1999!
Secret Cinema 1999 Annual Report
Secret Cinema 1998 Annual Report
Secret Cinema 1997 Annual Report
Information about the 1998 Secret Cinema "Class Trip" to the Syracuse Cinefest
---
Last Updated: 2/20/17
WebMasters: Rodney Linderman & Jay Schwartz
© copyright 2017