Last Updated: 1/4/23


ALL SECRET CINEMA PRESENTATIONS ARE SHOWN IN 16mm (or larger!) FILM ON A GIANT SCREEN (NOT VIDEO...NOT EVER!)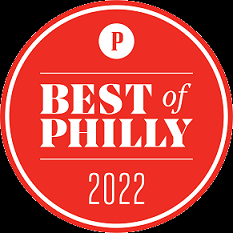 Since 1992, the Secret Cinema has been the Philadelphia area's premiere floating repertory cinema series, bringing hundreds of unique programs to nightclubs, bars, coffee houses, museums, open fields, colleges, art galleries, bookstores, and sometimes even theaters and film festivals. Drawing on its own large private film archive (as well as other collections), the Secret Cinema attempts to explore the uncharted territory and the genres that fall between the cracks, with programs devoted to educational and industrial films, cult and exploitation features, cartoons, rare television, local history, home movies, erotic films, politically incorrect material, and the odd Hollywood classic. As long as it exists on real celluloid, that is—Secret Cinema screenings never use video/digital projection. While mainly based in Philadelphia, the Secret Cinema has also brought programming to other cities and countries.
---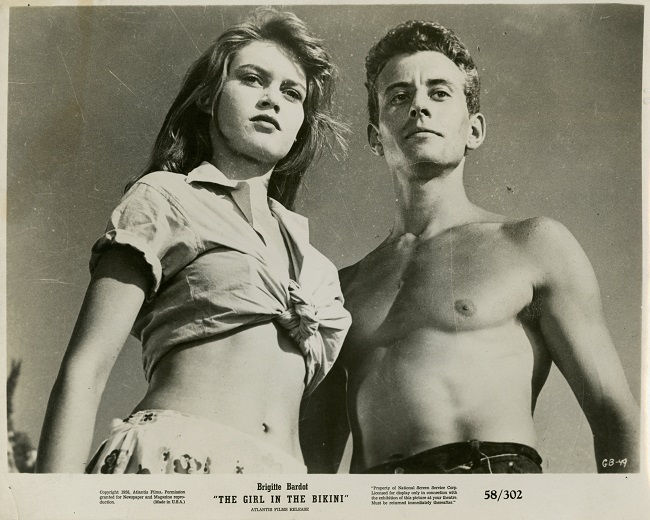 Early Brigitte Bardot feature in 35mm
at Lightbox Film Center
Saturday, January 28, 2023
7:00 pm
Admission: $10, $8 students, free for Lightbox members/Uarts students & staff
Lightbox Film Center
401 S. Broad Street, Philadelphia
215-717-6477
On Saturday, January 28, the Secret Cinema will present a rare 35mm print of a very early feature starring Brigitte Bardot, The Girl in the Bikini. The screening -- our first collaboration with the Lightbox Film Center -- will also be the first offering in an irregular series called Art House Oddities.
There will be one complete program, starting at 7:00 pm. Admission is $10, $8 students, and free for Lightbox members or Uarts students and staff.
The program will also include surprise short subjects (also in 35mm!).
The Girl in the Bikini (1952, France. Dir: Willy Rozier)
This, the second film appearance of Brigitte Bardot, did not arrive on our shores until six years after its production. By then, "B.B." was the world's biggest sex symbol, making international headlines after the success of Roger Vadim's And God Created Woman. In 1952, Bardot was just 18 years old, and taking all of her career direction from discoverer Vadim, then her fiancé. In this early role, she projects what the New York Times called, "a fetching winsomeness and innocence." The simple plot concerns a young law student (Jean-François Calvé) who partners with a cigarette smuggler to search for ancient treasure spotted off the coast of Corsica on a previous visit -- but the boy's real motive might be to again find the pretty lighthouse keeper's daughter (Bardot) who swims daily off of the rocks. A not-unexpected double-cross leads to a dramatic conclusion, but the real rewards of this film, truly the product of a different time, are the visual delights of the Mediterranean scenery, and of the young, athletic cast (especially Bardot). Films like this (originally titled Manina, la Fille Sans Voiles) would convince many Americans to take European vacations on then newly affordable overseas jet travel.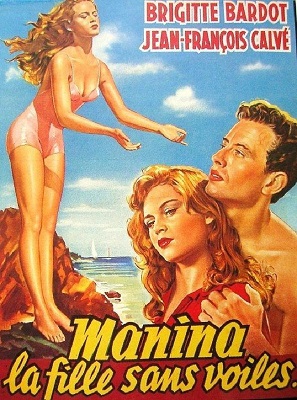 Art House Oddities will be an ongoing, irregular Secret Cinema series examining the early fare of "art house" cinemas. These specialty theaters catered to post-war audiences' increased curiosity about foreign and independent films -- the box office scores of which often benefited from their adult themes and lax censorship. This era of distribution, in which with many works were re-edited for America, and most foreign language films dubbed into English, has been largely forgotten with many of its films lost. Yet, adventurous viewers saw a lot of films this way in the 1950s and '60s, before "repertory cinemas" replaced art house distribution…and many theaters with "Art" in their title turned to hardcore pornography in their final acts.
---
FUTURE SECRET CINEMA EVENTS (more info soon):
February TBA: a return to the Maas Building
Thursday, March 9 @ the Rotunda: TBA
Sunday, March 19 @ the Colonial Theatre, Phoenixville: Dark Waters in 35mm
Thursday, April 13 @ the Bryn Mawr Film Institute: From Philadelphia with Love
---
If you'd like to subscribe to announcements of upcoming Secret Cinema events, then e-mail us by clicking HERE. Please specify in your message where you are located.
Click HERE to learn the history of Secret Cinema.
Click HERE to read about recent (and not so recent!) Secret Cinema events.
Click HERE for the Secret Cinema Facebook page.
RELATED LINKS:
NEW! 2008 interview with Secret Cinema's Jay Schwartz from an academic journal
Channel 29 news piece on Secret Cinema from 1999!
Secret Cinema 1999 Annual Report
Secret Cinema 1998 Annual Report
Secret Cinema 1997 Annual Report
Information about the 1998 Secret Cinema "Class Trip" to the Syracuse Cinefest
---
Last Updated: 1/4/23
Webmaster: Jay Schwartz
© copyright 2023