Last Updated: 7/24/18


ALL SECRET CINEMA PRESENTATIONS ARE SHOWN IN 16MM (or larger!) FILM ON A GIANT SCREEN (NOT VIDEO...NOT EVER!)
---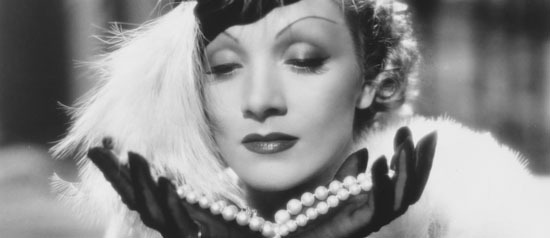 Marlene Dietrich in Desire for
Pearl Anniversary AIDS Law Project movie party
Friday, July 20, 2018
6:00pm - food, beer and drinks
7:30pm - movie screening
Admission: $20.00 advance/$25.00 door
The William Way Center
1315 Spruce Street, Philadelphia
(215) 732-2220
On Friday, July 20, the Secret Cinema will return to the William Way Community Center to help present the 19th annual summer movie party for the AIDS Law Project of Pennsylvania. The festivities will once again feature food, fun and film, including a screening of Desire, starring Marlene Dietrich as the elegant pilferer of a precious string of pearls. The film choice thus celebrates the Pearl (30th) Anniversary of the AIDS Law Project of Pennsylvania (though it is also a wonderful, funny film from Hollywood's golden age!).
There will also be surprise short subjects. Film historian (and past movie party guest) Richard Barrios will introduce and discuss the films.
The schedule is:
6:00pm - food, beer and drinks
7:30pm - movie screening
Tickets for all of this are just $20 in advance, $25 at the door.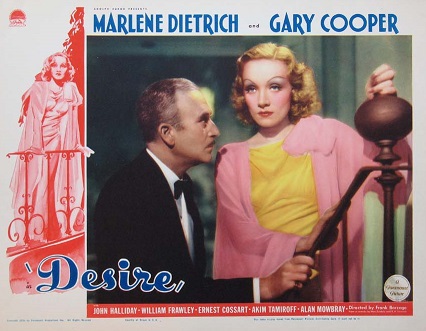 Desire (1938, Dir: Frank Borzage)
Marlene Dietrich is the best-dressed jewel thief in movie history, and Gary Cooper is the American tourist who has little difficulty falling under her spell. This elegant romantic comedy may be about the theft of a pearl necklace, but it sparkles like diamonds. The production is sumptuous (including location photography in France and Spain), the pace is quicksilver, the laughs are abundant, and movie stars have never shone more brightly. Rounding out the cast are reliable character actors John Halliday, William Frawley, Akim Tamiroff and Alan Mowbray. Desire was co-produced by director Borzage and Ernest Lubitsch, whose elegant stylistic touches are evident.
For more ticket information, call the AIDS Law Project at 215-587-9377, or go here.
About our guest speaker:
Richard Barrios' latest book is Must-See Musicals: 50 Show-Stopping Movies We Can't Forget, published by Running Press in collaboration with Turner Classic Movies. His last book Dangerous Rhythm: Why Movie Musicals Matter was reviewed by the New York Times, Wall Street Journal and Philadelphia Inquirer. He is also the author of A Song in the Dark: The Birth of the Musical Film, and Screened Out: Playing Gay in Hollywood From Edison to Stonewall. Richard Barrios has written on film for the New York Times, and provided commentary tracks for several DVDs.
About the AIDS Law Project: Founded in 1988, the AIDS Law Project of Pennsylvania is the nation's only independent public-interest law firm dedicated to AIDS and HIV. It has risen to the defense of more than 38,000 people free of charge, and has educated more than 40,000 others on AIDS-related legal issues. It works at local, state and national levels to achieve fair laws and policies.
---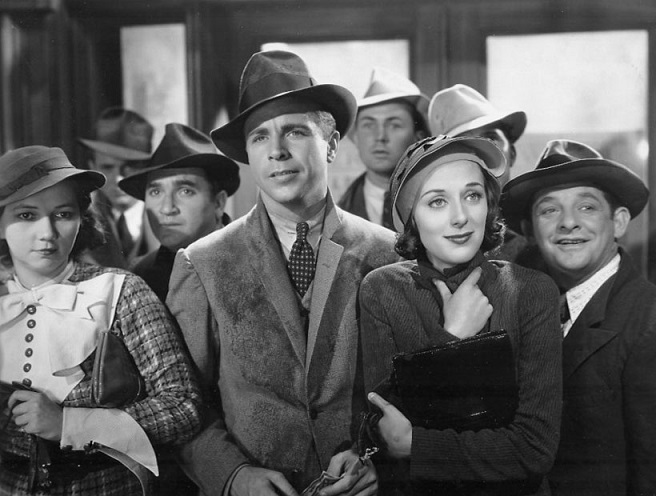 1935 musical political satire Thanks a Million
at historic Glen Foerd mansion
Wednesday, July 25, 2018
8:00 pm (doors open 7:00 pm)
Admission: $10.00
Glen Foerd on the Delaware
Grant Avenue & Milnor Street, Philadelphia
215-632-5330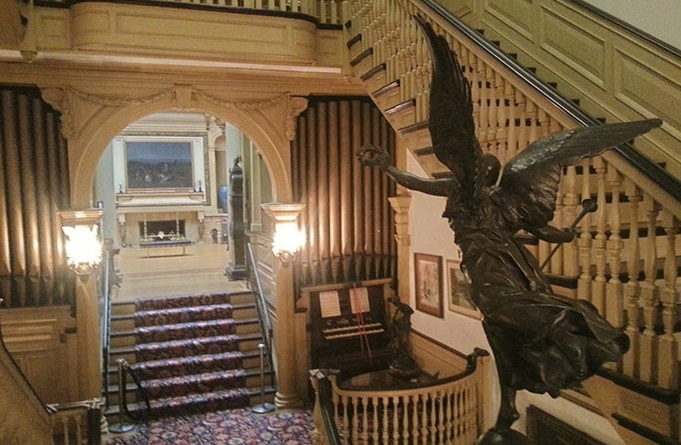 On Wednesday, July 25, the Secret Cinema will present films at perhaps the most impressive venue in our long history -- historic Glen Foerd on the Delaware, a historic mansion and estate located in the Torresdale neighborhood of Northeast Philadelphia. Glen Foerd is Philadelphia's last remaining Delaware River estate open to the public.
The screening will center on the 1935 feature film Thanks a Million, a hybrid of political satire and musical comedy, about a big band singer (Dick Powell) who is reluctantly recruited as an outsider candidate in the Pennsylvania gubernatorial election. The film is aided by a witty script from Nunnally Johnson, a top cast of '30s co-stars and character actors (Ann Dvorak, Fred Allen, Raymond Walburn, Patsy Kelly), and guest musical numbers from the Yacht Club Boys and "King of Jazz" Paul Whiteman.
Also shown will be surprise short subjects from the same year as the feature.
There will be one complete show at 8:00 pm. Doors will open at 7:00 pm to allow touring of the mansion and grounds. Admission is $10.00 (advance tickets may be purchased through the Glen Foerd website)
Glen Foerd on the Delaware is a 5-minute walk from the Torresdale station of SEPTA's Trenton Regional Rail Line or the 19 & 84 bus routes. There is ample free parking within the estate.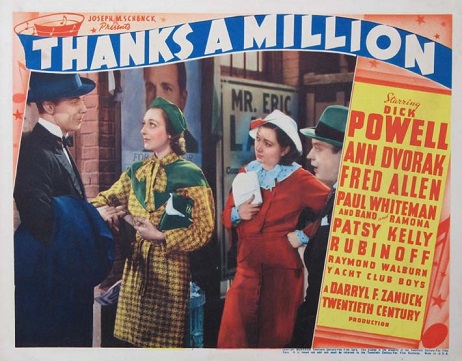 Thanks a Million (1935, Dir: Roy Del Ruth)
When a charismatic jazz singer (Dick Powell) makes a speech in place of the stodgy candidate for the Governorship of Pennsylvania, his manager (played by popular radio comedian Fred Allen) senses a need for more entertainment in politics, and convinces the party to make the singer their candidate. The fresh-faced outsider begins to sweep the polls -- though in reality he doesn't even want the job. Sound familiar? There are clear parallels to recent events with a certain television star turned politician (though to be fair, Powell's character is exceedingly honest and likeable). The entertaining-if-cynical script was written by Nunnally Johnson, who scripted countless classics for John Ford and others like The Grapes of Wrath and How to Marry a Millionaire (as well as the under-appreciated Baby Face Harrington, an all-time Secret Cinema favorite that we've never found a film print of!). The comedy is kept moving with wisecracks from Allen and Patsy Kelly, and there are several upbeat songs, written by Kahn & Johnston and Kalmar & Ruby. Philadelphia-born director Roy Del Ruth began his career in 1915 as a gag writer for Mack Sennett. His long directing career included the original, 1931 version of The Maltese Falcon, the Eddie Cantor comedy Kid Millions (also written by Johnson)...and 1959 sci-fi schlocker The Alligator People.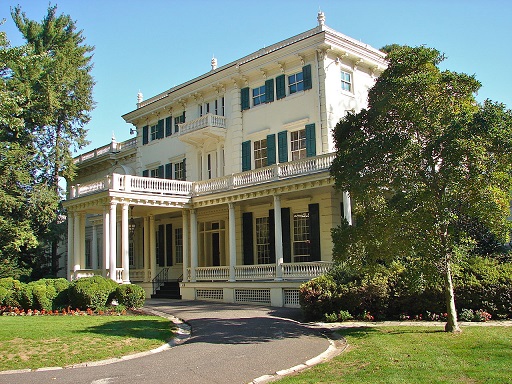 About Glen Foerd on the Delaware: The Glen Foerd mansion was built in 1850 by businessman Charles Macalester, Jr. The estate was later purchased by leather manufacturer Robert Foerderer, who enlarged and added extensive enhancements to the property, including a formal dining room, an impressive art gallery, a pipe organ, parquet floors, a grand staircase and elaborate leaded glass skylights. The Foerderers' daughter Florence lived in the estate until her death in 1971. In 1985 the property was taken over by the Glen Foerd Conservation Corporation and the Fairmount Park Commission, and is today operated as a historic house museum and public park.
This screening will take place in the run-up to Glen Foerd's Deco on the Delaware event (formerly Jazz Age on the Delaware) on August 4, a fête and fundraiser celebrating the music and culture of the Jazz Age. More information can be found at here.
---
FUTURE SECRET CINEMA EVENTS (more info soon):
Friday, September 7, 2018 @ Eastern State Penitentiary: TBA
Thursday, September 13, 2018 @ The Rotunda: TBA
Thursday, September 20, 2018 @ Bryn Mawr Film Institute: an all-new Trailer Trash program!
---
If you'd like to subscribe to announcements of upcoming Secret Cinema events, then e-mail us by clicking HERE. Please specify in your message where you are located.
Click HERE to learn the history of Secret Cinema.
Click HERE to read about recent Secret Cinema events.
RELATED LINKS:
Channel 29 news piece on Secret Cinema from 1999!
Secret Cinema 1999 Annual Report
Secret Cinema 1998 Annual Report
Secret Cinema 1997 Annual Report
Information about the 1998 Secret Cinema "Class Trip" to the Syracuse Cinefest
---
Last Updated: 7/7/18
WebMasters: Rodney Linderman & Jay Schwartz
© copyright 2018