Last Updated: 3/14/18


ALL SECRET CINEMA PRESENTATIONS ARE SHOWN IN 16MM (or larger!) FILM ON A GIANT SCREEN (NOT VIDEO...NOT EVER!)
---
NOTE: TONIGHT'S SCREENING AT THE WOODMERE ART MUSEUM HAS BEEN CANCELLED DUE TO INCLEMENT WEATHER.
Look for a rescheduled "B" Picture Double Feature in next season's CHFG calendar.
---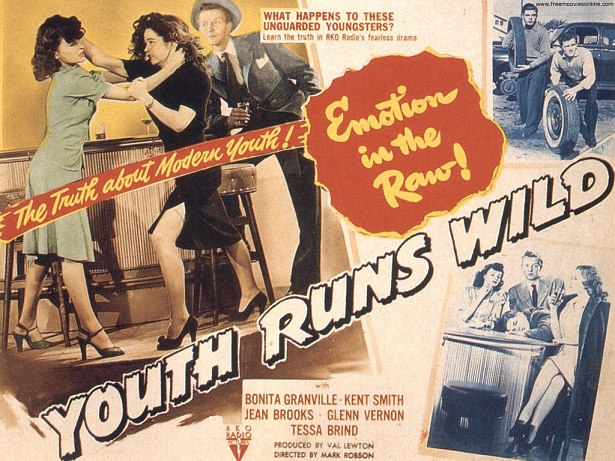 "B" Picture Double Feature
at Chestnut Hill Film Group screening
Tuesday, March 20, 2018
7:30 pm
Admission: FREE
Woodmere Art Museum
9201 Germantown Avenue, Philadelphia
(215) 247-0476
The Secret Cinema will return to the Woodmere Art Museum for another Chestnut Hill Film Group event on Tuesday, March 20. That's when we'll present a unique program called "B" Picture Double Feature, consisting of two brisk-paced genre features from the 1940s, plus surprise short subjects (this will be the Secret Cinema's third "B" Picture Double Feature for the CHFG).
The phrase "B-Movies" has come to have many connotations over the years, usually negative, but originally the designation simply meant a film was the "second feature" on a standard double bill. As this usually meant it was a lower-budgeted, shorter-length affair, the format lent itself to fast-paced genre films that didn't require big-name stars, such as Westerns, mysteries, and horror films (though there were also many comedies, romantic dramas and even musicals made as "b" pictures).
Our double feature includes two films with close to one-hour running times, and combines wartime espionage with an intriguing look at a then-new social problem.
There will be one complete screening, at 7:30 pm. Admission is free (although museum donations are encouraged).
The Chestnut Hill Film Group is Philadelphia's longest-running repertory cinema series.
Complete descriptions of the two features appears below:
Youth Runs Wild (Dir: Mark Robson. Prod: Val Lewton. 1944)
This little seen, little known film, from Val Lewton's celebrated production unit at RKO studios, was probably the first movie to address the growing problem of juvenile delinquency, a phenomenon which flourished when wartime duties kept parental supervision to a minimum. Inspired by a Look magazine article called "Are These Our Children?", the film shows the various interconnected problems among the residents of a typical working-class block during those trying times. Unlike later, more exploitative J.D. epics (and like most other Lewton efforts), Youth Runs Wild attempted to present the realistic and human side of the story. Critic James Agee wrote, "...you are seeing pretty nearly the only writing and acting and directing and photography in Hollywood which is at all concerned with what happens inside real and particular people." Fleshing out these portraits are such reliable players as Bonita Granville, former Our Gang child star Dickie Moore, and legendary tough guy Lawrence Tierney. While the film is not without awkward moments, Youth Runs Wild presents a fascinating snapshot of America -- and of Lewton's career.
Val (Vladimir) Lewton was born in Russia, and was the nephew of silent film star Alla Nazimova. Lewton was already a prolific author when he entered filmmaking as an assistant to David O. Selznick. In 1942 he was given his own b-movie production unit at RKO, where he attempted to create art out of the mostly horror-oriented stories that he was assigned to film (the genre-bound titles of which he often despised). Keeping close control over scripts, casting and editing, Lewton is one of the few non-directing producers in film history that is usually considered the true auteur of his works, and films like The Cat People, I Walked With A Zombie, and The Body Snatcher have achieved classic status.
Mark Robson helped edit Citizen Kane and The Magnificent Ambersons before starting a directing career that began with Lewton's dark The Seventh Victim. He continued working into the late 1970s, making such notable films as The Harder They Fall, Valley of the Dolls, and Earthquake.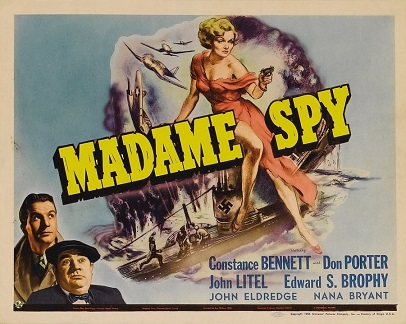 Madame Spy (Dir: Roy William Neill, 1942)
Constance Bennett stars as the newly-married wife of a journalist (Don Porter) who suspects that his bride just might be a Nazi spy. Character actor Edward Brophy, as their taxi driver friend, adds some laughs to the intrigue. Bennett, a star in the 1920s and 1930s, was a jet-setter who married five times, and later started the Constance Bennett Cosmetics Company. Her sisters Barbara and Joan were also actresses. Director Neill began his career with Thomas Ince in 1915. Best known for helming 11 features in the Basil Rathbone Sherlock Holmes series, he earlier made the remarkable 1932 voodoo cult thriller Black Moon, which was likely an influence on Val Lewton's classic I Walked With a Zombie.
CHESTNUT HILL FILM GROUP WEBSITE
---
FUTURE SECRET CINEMA EVENTS (more info soon):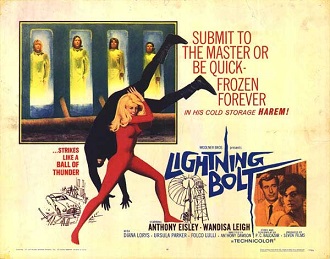 Thursday, March 15, 2018 @ Towson University, Maryland: Special program of fashion/beauty-themed shorts. for exhibition "From the Inside Out: Building the Silhouette"
Friday, April 20, 2018 @ Fleisher Art Memorial: TBA
Thursday, May 3, 2018 @ Bryn Mawr Film Institute: Lightning Bolt
---
If you'd like to subscribe to announcements of upcoming Secret Cinema events, then e-mail us by clicking HERE. Please specify in your message where you are located.
Click HERE to learn the history of Secret Cinema.
Click HERE to read about recent Secret Cinema events.
RELATED LINKS:
Channel 29 news piece on Secret Cinema from 1999!
Secret Cinema 1999 Annual Report
Secret Cinema 1998 Annual Report
Secret Cinema 1997 Annual Report
Information about the 1998 Secret Cinema "Class Trip" to the Syracuse Cinefest
---
Last Updated: 3/14/18
WebMasters: Rodney Linderman & Jay Schwartz
© copyright 2018