Last Updated: 2/6/16


ALL SECRET CINEMA PRESENTATIONS ARE SHOWN IN 16MM FILM ON A GIANT SCREEN (NOT VIDEO...NOT EVER!)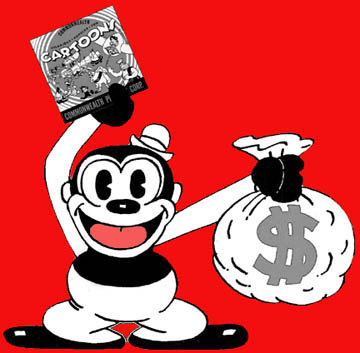 Rare Animation
at Fleisher Art Memorial
NEW DATE:
Saturday, February 20, 2016
8:00 pm
Admission: $8.00
Fleisher Art Memorial
719 Catharine Street, Philadelphia
(215) 922-3456, ext. 300
While animation programs have consistently been among the Secret Cinema's most popular offerings, we somehow have not done any in over four years. It's time to fix that! On Saturday, February 20, we'll present Rare Animation, showcasing an exceptional gathering of vault treasures from Hollywood's golden age, united by their general obscurity to the world at large.
This date replaces the original screening date of January 22, which had to be cancelled because of a blizzard.
Rare Animation will be shown in the beautiful Sanctuary of the Fleisher Art Memorial, in Philadelphia's Bella Vista neighborhood (just South of Center City). Free parking is available in the Fleisher's parking lot, just across the street.
There will be one complete show, starting at 8:00 pm. Admission is $8.00.
We won't show any Bugs Bunny or Betty Boop titles (not that there's anything wrong with that), but instead will concentrate on cartoons rarely screened, at least in recent decades. Despite this fact, these films -- shown using scarce, beautiful prints culled from private archives, many in glorious I.B. Technicolor or shimmering black and white -- display the full range of classic animators' art and craft.
The program will include vintage reels from under-appreciated cartoon studios like Van Beuren, Charles Mintz and Paul Terry's Fables Studios, rarer titles from industry leaders like Warner Brothers and Max Fleischer, and some oddball independent, experimental and television productions -- plus at least one cartoon that we cannot find any information about (someone please tell us who made Gunnar the Sailor!)
Most of this program of Rare Animation was presented by us just once before, in 2009, which seems long enough ago that we should bring it back. Plus, there will be a few new cartoons this time.
Rare Animation will include the following (and more)…
Sinkin' in the Bathtub (1930, Dir: Hugh Harman & Rudolf Ising) - The very first Warner Brothers cartoon introduces both the Bosko character and the Looney Tunes series. Music includes "Tip Toe Through the Tulips," which was popularized one year earlier in the feature film Gold Diggers Of Broadway.
Stanley Takes a Trip (1947, Dir: Jim MacKay, Grant Munro & Helen Mackay) - Educational short ("in which a little boy finds that eating the right food is fun!") uses inventive, colorful cut-paper animation. Produced for the Nutrition Division of the Department of National Health & Welfare by the National Film Board of Canada.
Martian Through Georgia (1962, Dir: Chuck Jones & Abe Levitow) - From the final decade of Warner Brothers animation comes one of the strangest entries in the series, featuring the wild, psychedelic designs of Maurice Noble.
The Morning After (1924, Prod: Paul Terry) - Paul Terry was a pioneer of animated cartoons, starting in 1915. Though his Terrytoons studio would produce somewhat routine work in the 1940s and '50s (with such characters as Heckle & Jeckle and Mighty Mouse), Terry's output in the silent years was whimsical and clever. This prime example, from the "Aesop's Film Fables" series, features impressive use of perspective -- and a prohibition-era storyline complete with rum runners, drunkenness and corrupt police!
Ain't She Sweet (1933, Dir: Dave Fleischer) - "Screen Songs" ("with the famous bouncing ball," a Max Fleischer invention) was a long-running series that combined animation with live action footage of singers such as Rudy Vallee, Ethel Merman and The Mills Brothers performing popular songs. Here we see Broadway star "the inimitable Lillian Roth" (and for once the hype is true!), singing a song recorded by everyone from Gene Austin to the Beatles.
Gunnar the Sailor #8 (Year unknown, director unknown) - A short, serial-like segment of a series we can find no information about. Probably made in Europe, possibly made for television; the impossibly-smooth and life-like animation and inventive, Fleischer-esquely surreal moments mark it as unique for a TV cartoon. Since our last showing of this reel seven years ago, the only new information revealed by a Google search is that the series was evidently shown on BBC television on June 9, 1960! Anybody?
1925 Christmas Seals message (1925, director unknown) - A very old (and very short!) animated public service announcement. It was shown in theaters to promote the benefits of a good night's sleep -- and of buying Christmas Seals.
Plus The Prize Guest (1939), Instant Sex (1979), Disco Droopy (1980) and more.
About the Fleisher Art Memorial:
Founded in 1898, Fleisher is one of the country's oldest nonprofit community art schools. Fleisher's mission is to make art accessible to everyone, regardless of economic means, background, or artistic experience. In 1916, Fleisher acquired the former building of the Saint Martin's College for Indigent Boys on Christian Street, and in 1922, added the adjacent Romanesque church which had formerly been the Episcopal Church of the Evangelist. The space was converted to house Fleisher's private collections of paintings and sculptures, and he made it available to neighborhood residents day and night as a quiet place for contemplation and reflection. Fleisher serves over 16,000 annually, with 1,702 young people attending tuition-free classes and low-cost workshops, 3,820 adults taking free and low-cost classes and workshops, 358 children and youth being served in public schools and community centers throughout Southeast Philadelphia, and 8,430 visitors to the galleries annually.
---
FUTURE SECRET CINEMA EVENTS (more info soon):
Wednesday, February 24 @ Philadelphia Museum of Art: The Touchables
---
If you'd like to subscribe to announcements of upcoming Secret Cinema events, then e-mail us by clicking HERE. Please specify in your message where you are located.
Click HERE to learn the history of Secret Cinema.
Click HERE to read about recent Secret Cinema events.
RELATED LINKS:
Channel 29 news piece on Secret Cinema from 1999!
Secret Cinema 1999 Annual Report
Secret Cinema 1998 Annual Report
Secret Cinema 1997 Annual Report
Information about the 1998 Secret Cinema "Class Trip" to the Syracuse Cinefest
---
Last Updated: 2/6/16
WebMasters: Rodney Linderman & Jay Schwartz
© copyright 2016