Last Updated: 3/10/23


ALL SECRET CINEMA PRESENTATIONS ARE SHOWN IN 16mm (or larger!) FILM ON A GIANT SCREEN (NOT VIDEO...NOT EVER!)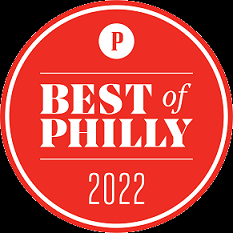 Since 1992, the Secret Cinema has been the Philadelphia area's premiere floating repertory cinema series, bringing hundreds of unique programs to nightclubs, bars, coffee houses, museums, open fields, colleges, art galleries, bookstores, and sometimes even theaters and film festivals. Drawing on its own large private film archive (as well as other collections), the Secret Cinema attempts to explore the uncharted territory and the genres that fall between the cracks, with programs devoted to educational and industrial films, cult and exploitation features, cartoons, rare television, local history, home movies, erotic films, politically incorrect material, and the odd Hollywood classic. As long as it exists on real celluloid, that is—Secret Cinema screenings never use video/digital projection. While mainly based in Philadelphia, the Secret Cinema has also brought programming to other cities and countries.
---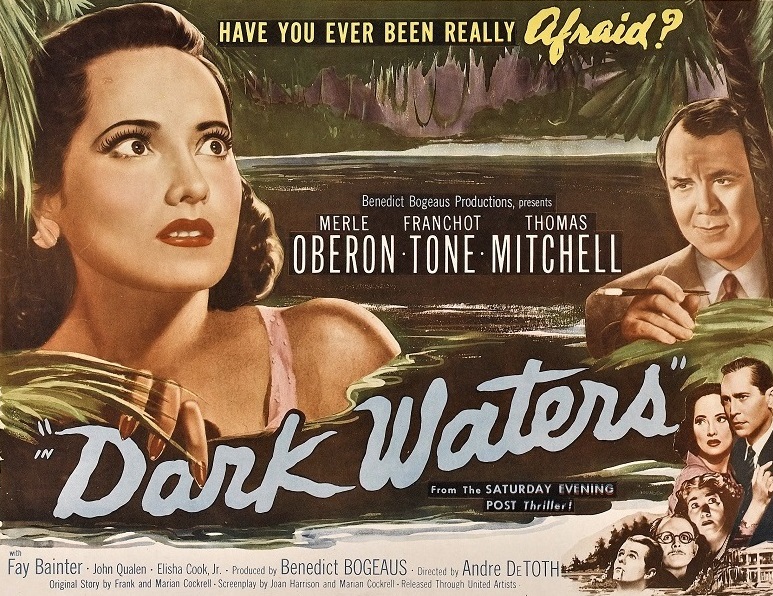 Atmospheric, noirish thriller Dark Waters
in rare 35mm print in Phoenixville
Sunday, March 19, 2023
4:00 pm
Admission: $12.00, $10.00 students/seniors/military, $8.00 Colonial members
Colonial Theatre
227 Bridge Street, Phoenixville, PA
610-917-1228 The Secret Cinema presents atmospheric, noirish thriller Dark Waters in rare 35mm print in Phoenixville
On Sunday, March 19, the Secret Cinema will return to the Colonial Theatre in Phoenixville for a screening of Dark Waters. This largely forgotten 1944 psychological thriller stars Merle Oberon as a woman who escaped a sinking ship on which her parents drowned, only to remain haunted by the memory -- and by the weird behavior of the family members who welcome the orphaned woman into their Southern plantation. Dark Waters has acquired a cult repitation for director André de Toth's skillful use of film noir stylings to create a tense and eccentric atmosphere.
Dark Waters will be preceded by surprise short films from the Secret Cinema's archive of 35mm prints.
There will be one complete program starting at 4:00 pm.
Admission is $12.00, $10.00 for students/seniors/military, $8.00 for Colonial members
A complete description of the program follows...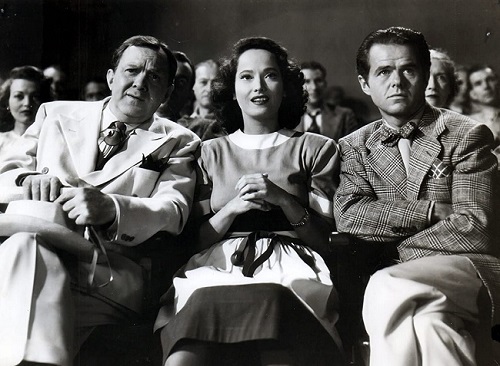 Dark Waters (1944, Dir: André de Toth) 35mm
"Why did they pull me out of the water? That's where I belong, under the water with my mother and father!" Exotic beauty Merle Oberon stars as a woman who saw her parents drown in a ship sunk by Nazi torpedoes, and dazed, goes to live with relatives she's never met in a murky New Orleans plantation. Haunted by survivor's guilt and recurring visions of the tragedy, she finds her off-kilter relatives sympathetic at first, yet mysteriously they seem to encourage her nightmares and growing madness. Striking cinematography and a gallery of weird types (especially character actor greats John Qualen, Elisha Cook, Jr., and Thomas Mitchell) make this an especially atmospheric psychological thriller. Genre aficionados have debated whether or not Dark Waters is true film noir, but in the most literal sense, this must be one of the darkest films ever released: the grains of silver needed to create the ratio of black-to-white in its 35mm print could probably supply the photographic needs of five regular Hollywood releases.
After making films in his native Hungary, André de Toth worked for Alexander Korda as a second-unit director on Thief of Bagdad. In Hollywood he became a specialist in violent crime and Western movies. Despite having only one eye, he helmed the 3-D epic House of Wax. Independently produced by Benedict Bogeaus (Diary of a Chambermaid, Slightly Scarlet), Dark Waters includes some subtly progressive story points about race (via Rex Ingram's character) that would be unlikely in more typical studio fare of the era.
"Mood dictates narrative in André de Toth's Dark Waters, a hallucinatory jigsaw puzzle set in the deep swamps of 1940s Louisiana that becomes a perfect breeding ground for noirish shadows and deceptive wordplay." - Glenn Heath Jr., Slant.
"Dark Waters succeeds in large measure because of de Toth's attention to texture and atmosphere -- a studio rendition of Southern Gothic so expert that it managed to fool real bayou dwellers." - Kyle Westphal
Plus unusual short films.
---
FUTURE SECRET CINEMA EVENTS (more info soon):
Friday, March 31 @ the Franklin Institute: Science After Dark film screening
Friday, April 7 @ Old Pine Community Center: Baseball films!
Thursday, April 13 @ the Bryn Mawr Film Institute: From Philadelphia with Love
Thursday, May 11 @ the Rotunda: TBA
---
If you'd like to subscribe to announcements of upcoming Secret Cinema events, then e-mail us by clicking HERE. Please specify in your message where you are located.
Click HERE to learn the history of Secret Cinema.
Click HERE to read about recent (and not so recent!) Secret Cinema events.
Click HERE for the Secret Cinema Facebook page.
RELATED LINKS:
NEW! 2008 interview with Secret Cinema's Jay Schwartz from an academic journal
Channel 29 news piece on Secret Cinema from 1999!
Secret Cinema 1999 Annual Report
Secret Cinema 1998 Annual Report
Secret Cinema 1997 Annual Report
Information about the 1998 Secret Cinema "Class Trip" to the Syracuse Cinefest
---
Last Updated: 3/10/23
Webmaster: Jay Schwartz
© copyright 2023