Last Updated: 6/9/19


ALL SECRET CINEMA PRESENTATIONS ARE SHOWN IN 16MM (or larger!) FILM ON A GIANT SCREEN (NOT VIDEO...NOT EVER!)
---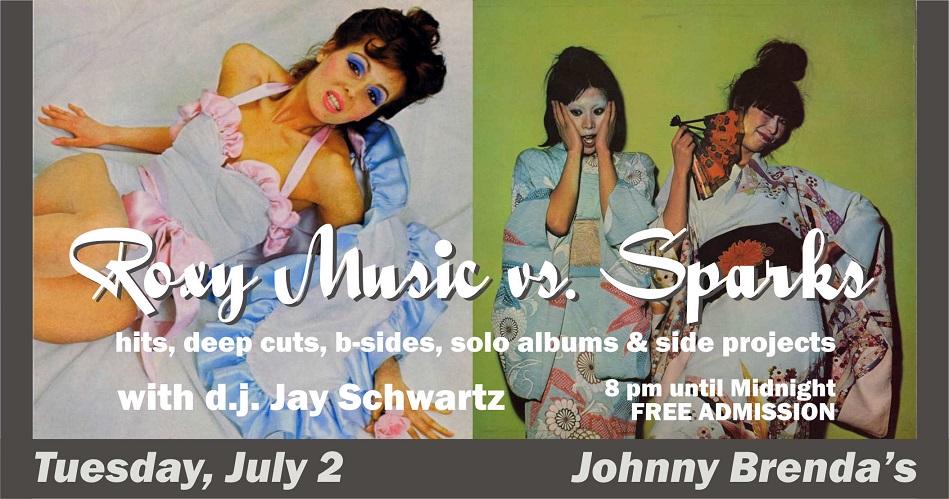 Tuesday, July 2, 2019
8:00 pm until Midnight
Admission: FREE
Johnny Brenda's
1201 N. Frankford Avenue, Philadelphia
215-739-9684
Jay Schwartz spins Roxy Music vs. Sparks
at Johnny Brenda's
This town ain't big enough for both of them! On Tuesday, July 2, d.j. Jay Schwartz (of the Secret Cinema) will bring a brand new, '70s-centric music mix to Johnny Brenda's, when he spins Roxy Music vs. Sparks. Who will emerge the victor?
We don't know if those two bands really had a serious rivalry back then, though they did battle each other for chart positions in the U.K., where both groups were huge. Stateside, both of these "art rock" practitioners were relegated to cult hero status -- and for several years were probably Schwartz's favorite artists (along with David Bowie).
The night will feature well-known favorites, deeper album tracks, and lots of rarities: non-LP b-sides of import singles, solo albums and side projects, and maybe even some bootleg live recordings.
Roxy Music vs. Sparks runs from 8:00 pm until Midnight. Of course, admission is free.
Roxy Music vs. Sparks will probably never be repeated (unless a whole lot of people show up), so don't miss it!
Jay Schwartz, known as the long-time programmer/creator of the Secret Cinema film series, has, in the last year, been carting large swaths of his record collection to nightspots like the International and Johnny Brenda's. Often working in partnership with D.J. Silvia, he has presented d.j. sessions devoted to 1970s punk and new wave, sunshine pop, and 1960s pop music from Spain and France.
---
FUTURE SECRET CINEMA EVENTS (more info soon):
July 2019 @ Fleisher Art Memorial: TBA
---
If you'd like to subscribe to announcements of upcoming Secret Cinema events, then e-mail us by clicking HERE. Please specify in your message where you are located.
Click HERE to learn the history of Secret Cinema.
Click HERE to read about recent Secret Cinema events.
RELATED LINKS:
Channel 29 news piece on Secret Cinema from 1999!
Secret Cinema 1999 Annual Report
Secret Cinema 1998 Annual Report
Secret Cinema 1997 Annual Report
Information about the 1998 Secret Cinema "Class Trip" to the Syracuse Cinefest
---
Last Updated: 6/9/19
WebMasters: Rodney Linderman & Jay Schwartz
© copyright 2019