Last Updated: 1/19/18


ALL SECRET CINEMA PRESENTATIONS ARE SHOWN IN 16MM (or larger!) FILM ON A GIANT SCREEN (NOT VIDEO...NOT EVER!)
---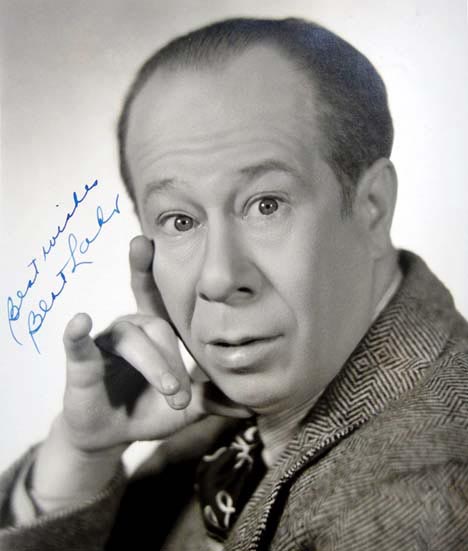 Vintage comedy Two-Reelers
unearthed at Maas Building
Friday, January 26, 2018
8:00 pm
Admission: $9.00
The Maas Building
1325 N. Randolph Street, Philadelphia, PA
267-239-2851
From the 1920s through the 1950s, audiences expected a full bill of entertainment from movie theaters. Besides a feature (or two) and coming attractions, they would also watch a newsreel, a cartoon, perhaps a travelog, and more often than not, a comedy short, or "two-reeler." Sadly, comedy shorts faded away as television became ubiquitous in American households, and situation comedies took the place of the theatrical format. Today, the Three Stooges, Laurel and Hardy and Our Gang are the best-known stars of this vanished film genre -- but there were dozens of other stars and series that were familiar to talkie-era audiences.
Some actors who made comedy shorts became huge stars, like Bing Crosby, Bob Hope and W.C. Fields. But others who were just as famous to moviegoers in the 1930s and 40s -- Leon Errol, Tom Kennedy, Andy Clyde and Billy Gilbert, to name just four once-prominent funnymen -- are, in the 21st century, obscure to all but the most savvy film buffs.
Well, nothing is too obscure for Secret Cinema, and on Friday, January 26, we will return to the Maas Building to celebrate this rich and varied corner of film history. Two-Reelers will showcase a variety of rarely-seen comedy series and stars of yesterday.
There will be one complete show at 8:00 pm. Admission is $9.00.
The program is still being assembled, but below are details on just a few of the films to be shown. And full disclosure: To fit as much variety into this program as possible, we'll probably also include a few one-reel shorts (we thought Two-Reelers made for a snappier program title!).
No More West (1934, Dir: Nick Grinde) - Bert Lahr, later famous as the Cowardly Lion in The Wizard of Oz, stars in this wild burlesque of Westerns. He plays "Gunpowder Bert," a henpecked man who dreams of the romantic frontier. He foils a robbery at a carnival shooting gallery, then somehow winds up sheriff of a Wild West town -- giving Lahr ample opportunity to display the trademark comic mannerisms that kept him working from vaudeville through his 1960s Lay's Potato Chips commercials.
Cracked Shots (1934, Dir: George Stevens) - Producers of short films tried many pairings of actors in their search for perfect comedy chemistry; Stan Laurel and Oliver Hardy labored for years in solo outings before producer Hal Roach realized they were funniest when together. Cracked Shots features the short-lived team of Tom Kennedy and Will Stanton. Gruff-looking Kennedy (who, contrary to popular rumor, was unrelated to fellow two-reeler star Edgar Kennedy) was featured in countless comedy shorts, and with an assortment of partners. The British Stanton was, for most of his long career, mainly a character actor in bit parts. In this anarchic, somewhat weird short, Kennedy is pushed by Stanton to compete in a skeet shooting match that he is totally unqualified for. Things soon go wrong and his opponent takes umbrage, leading to an unrestrained (and comical) celebration of firepower. Stevens served as cinematographer on many Laurel & Hardy shorts before eventually becoming one of Hollywood's most distinguished directors (Shane, Giant).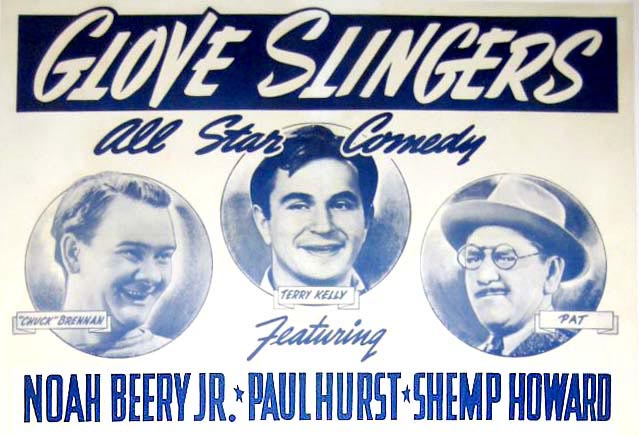 Glove Slingers (1939, Dir: Jules White) - This was the initial entry in an ill-fated series of Glove Slingers shorts, showcasing the misadventures of young pugilists, their amiable college friends, and a rotating cast of older comic players as handlers and trainers. The first two shorts (only) featured beloved third Stooge Shemp Howard in the role of "Uncle Pat," manager of fighter Noah Beery, Jr. Despite the direction by Jules White (who ran Columbia's short films department and thus oversaw their entire run of Three Stooges shorts), Glove Slingers displays a more naturalistic feel, with (somewhat) gentler comedy bits than seen in the usual Columbia/White house style of slapstick and sound effects.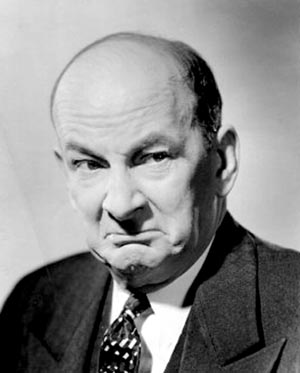 Leon Errol short to be announced (we have many to choose from!) - That Leon Errol is virtually unknown to modern audiences borders on the criminal. He emigrated to the U.S. from Australia, and then enjoyed a long career in vaudeville and on Broadway, with some tentative roles in silent slapstick films. It was not until Errol was in his fifties that he perfected the trademark characterization seen in nearly a hundred two-reelers, and numerous features (including several in the "Mexican Spitfire" series, with co-star Lupe Velez) -- and at his peak, the actor was in his sixties. In these films, Errol plays a balding, somewhat-irascible man with a fondness for drinking and a knack for mix-ups with pretty girls -- leading to inevitable conflicts with his always-suspicious wife. Errol's flustered reactions to the tight spots he winds up in (sometimes innocently and sometimes not) provided the laughs in most of his 165 screen appearances.
Movie Pests (1944) - One of the most prolific and best-known "stars" of 1930s and '40s comedy shorts was Pete Smith, responsible for 209 episodes of "Pete Smith Specialties," as well as another 80 films for other series. Yet Smith's face was unknown, for his specialty was adding sarcastic, wiseguy (and off-screen) narration to these comic looks at the everyday inconveniences of modern life. In this Academy Award-nominated short, Smith catalogs a litany of annoyances one is liable to encounter on a visit to the neighborhood movie theater.
Plus much, much more!
The Maas Building was previously a brewery and a trolley repair shop. This beautifully restored 1859 brick and timber workshop today serves as a multipurpose art event and catering space. Free parking is available on the street and in the adjacent lot of the James R. Ludlow Elementary School.
---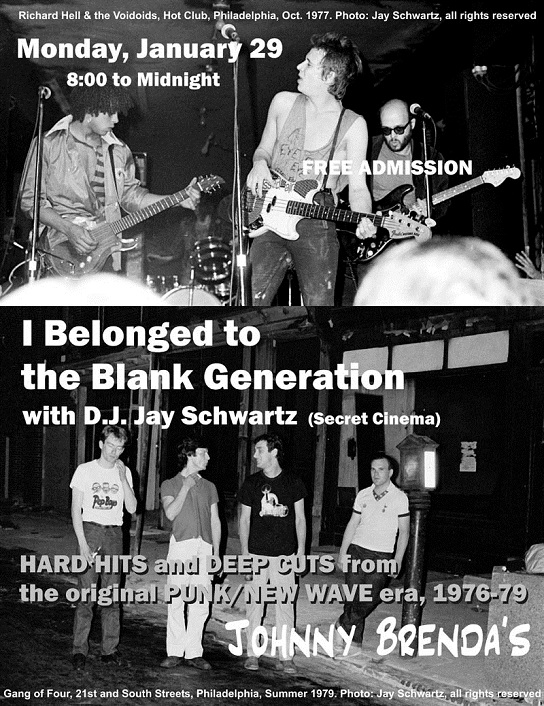 I Belonged to the Blank Generation
with D.J. Jay Schwartz at Johnny Brenda's
Monday, January 29, 2018
8:00 pm until Midnight
Admission: FREE
Johnny Brenda's
1201 N. Frankford Avenue, Philadelphia
215-739-9684
On Monday, January 29, the Secret Cinema's Jay Schwartz will be guest D.J. at Johnny Brenda's bar/restaurant (downstairs). Jay will present a music mix called I Belonged to the Blank Generation: Hard Hits and Deep Cuts from the Original Punk/New Wave Era, 1976-1979.
The event runs from 8:00 pm through Midnight, and admission is free.
While Schwartz is best known (for the last 26 years) for helming the Secret Cinema film series, his involvement in local nightlife goes back a bit earlier. When Philadelphia's first new wave nightclub, the Hot Club, started in 1977, Schwartz covered its opening night as local correspondent for the important music paper New York Rocker. He also contributed writing and photography to other local and national publications for the next several years, and in 1979 was hired as the Hot Club's publicist. Schwartz continued this work later at such fabled nightspots as the original (Kensington) Starlite Ballroom, the East Side Club and Filly's Saloon.
In addition to rock journalism, photography and publicity work, Schwartz also managed to capture the first video footage of Philly's new wave music scene -- still embryonic in 1978 -- for a Temple University student project. The resulting short documentary, Philadelphia Seen, includes very early footage of the band X, legendary d.j. Lee Paris, local punks the Jags, and nightclub impresario David Carroll. The original tapes were recently preserved by the University of Southern California's film archive (expect a screening soon!).
The Starlite Ballroom was also where Jay first worked as a club disk jockey, and parts of his growing record collection were shared at several other places in the ensuing years. However, January's night at Johnny Brenda's will be Jay's first d.j. job since the 2007 closing of Rick D's Tritone nightclub, where he had spun at many different thematic events.
Schwartz had a front row seat to a musical revolution, and that will set the theme of I Belonged to the Blank Generation... All of the music (most of it played using first pressing vinyl issues) will come from the crucial first years of punk and new wave. Iconic artists like Television, Richard Hell, Blondie and the Ramones will be heard, but the night will also find room for more obscure records and forgotten local bands.
---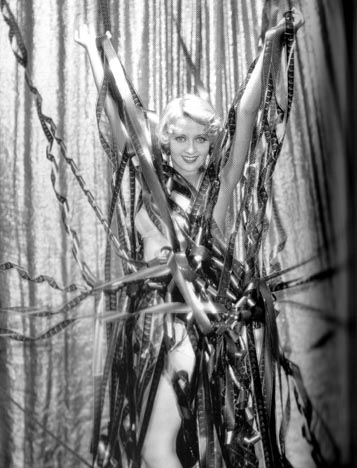 Program of 35mm rarities at
Bryn Mawr Film Institute
Bryn Mawr Film Institute
824 W. Lancaster Avenue, Bryn Mawr, PA
(610) 527-9898
Thursday, February 1, 2018
7:30 pm
Admission:$12.50, $6.50 (members), $10 (seniors/students)
On Thursday, February 1, the Secret Cinema will return to the Bryn Mawr Film Institute with hidden treasures from the rarely-seen 35mm section of the Secret Cinema archives -- many of which can not be seen anywhere else.
The program, named The Secret Secret Cinema, is a multi-genre pop culture mash-up of forgotten advertising films, theatrical short subjects, clips and trailers.
Some highlights are: La Danse a Go Go, a 1964 short about twisting discotheque go-go dancers; A Touch of Magic, a surreal Technicolor musical promoting Populuxe cars and kitchens; Mexican Rhythm, a 1953 one-reeler starring "Mexico's Jazz King" Luis Arcaraz; network TV promos; ads for long-gone local businesses; and original previews for such offbeat classics as Groupies, Hells Angels '69, Bummer, Mondo Mod… and much more!
This program is suggested for mature audiences (though immature adults are welcome also).
There will be one complete show at 7:30 pm. Admission is $12.50, $6.50 (BMFI members), $10 (seniors and students).
Like most Secret Cinema programs, The Secret Secret Cinema strives to expose forgotten delights from the often-overlooked annals of motion picture ephemera, films which would be difficult to experience in any other way.
While we normally are proud to announce that "All Secret Cinema presentations are projected in 16mm film on a giant screen," this time we are even prouder to announce that the entirety of The Secret Secret Cinema program will be projected in even higher-quality 35mm film, on an even gianter screen than usual. As always, we will be having nothing to do with video/digital presentation.
---
FUTURE SECRET CINEMA EVENTS (more info soon):
Friday, February 16, 2018 @ Fleisher Art Memorial: TBA
Thursday, March 8, 2018 @ The Rotunda: TBA
Tuesday, March 13, 2018 @ CHFG at the Woodmere Museum: B-Movie Double Feature: Youth Runs Wild and Madame Spy>
---
If you'd like to subscribe to announcements of upcoming Secret Cinema events, then e-mail us by clicking HERE. Please specify in your message where you are located.
Click HERE to learn the history of Secret Cinema.
Click HERE to read about recent Secret Cinema events.
RELATED LINKS:
Channel 29 news piece on Secret Cinema from 1999!
Secret Cinema 1999 Annual Report
Secret Cinema 1998 Annual Report
Secret Cinema 1997 Annual Report
Information about the 1998 Secret Cinema "Class Trip" to the Syracuse Cinefest
---
Last Updated: 1/19/18
WebMasters: Rodney Linderman & Jay Schwartz
© copyright 2017