Last Updated: 4/10/18


ALL SECRET CINEMA PRESENTATIONS ARE SHOWN IN 16MM (or larger!) FILM ON A GIANT SCREEN (NOT VIDEO...NOT EVER!)
---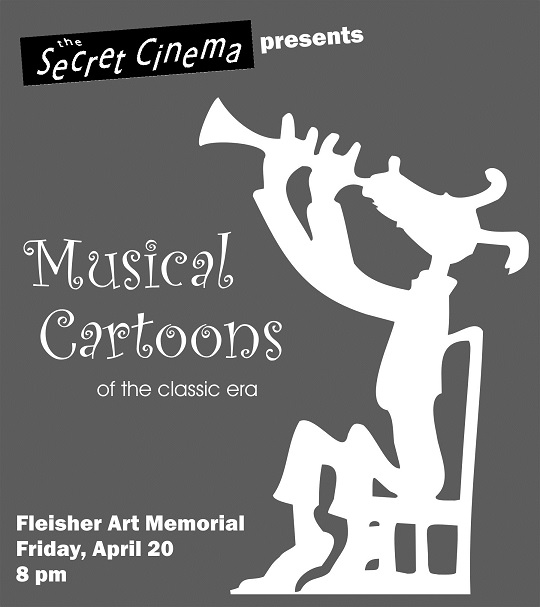 Musical Cartoons at Fleisher
Friday, April 20, 2018
8:00 pm
Admission: $9.00
Fleisher Art Memorial
719 Catharine Street, Philadelphia
215-922-3456 ext. 300
Two of the Secret Cinema's favorite types of films to show are musical shorts and cartoons. Yet, the two genres have a lengthy, deep and harmonious (sorry!) history together, beginning in the earliest days of sound animation. Both Walt Disney's Steamboat Willie, (frequently cited as the first talkie cartoon), and Max Fleischer's My Old Kentucky Home, (the actual first talkie cartoon), used popular music as a central theme. The latter film was from Fleischer's "Song Car-Tunes" series, and featured bouncing ball lyrics, an innovation patented by Max.
Many sound cartoons from the 1930s featured a non-stop soundtrack of hot jazz or other pop music of its time, with the animated portion of a theater's selected short subjects serving as the MTV of its time. Other cartoons made music part of their plots, or featured caricatures and even live-action appearances of famous singers and musicians. So why did it take 26 years for us to think of making a whole program of music-centered cartoons?
Who knows? But that will all be fixed on Friday, April 20, when we present Musical Cartoons at the Fleisher Art Memorial. We'll show a variety of cartoons from several of the top animation studios of the classic era, from the 1920s through the 1950s (and perhaps a few examples from the post-classic era). All feature music or musicians, including jazz, swing, and opera (!), on the soundtracks and in story lines.
There will be one complete show at 8:00 pm. Admission is $9.00
The screening will be shown in the beautiful Sanctuary of the Fleisher Art Memorial in Philadelphia's Bella Vista neighborhood (just South of Center City). Free parking is available in the Fleisher's parking lot, just across the street.
The individual Musical Cartoons are still being assembled, but will likely include these and more…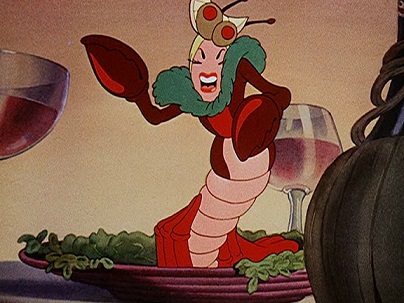 Juke Box Jamboree (1942) - A mouse that lives in the wall of a roadside café is kept awake by the Wurlitzer jukebox, but learns to love the music after sampling some leftover spirits. Produced by Walter Lantz.
Music Land (1935) - Before Warner Brothers launched their "Merrie Melodies" or "Looney Tunes" cartoon series, there were "Silly Symphonies," and it could be argued that Disney's art never soared higher than in these short, music-themed animations. The charming Music Land focuses on the unlikely romance between a violin from the Land of Symphony and a saxophone from the Isle of Jazz.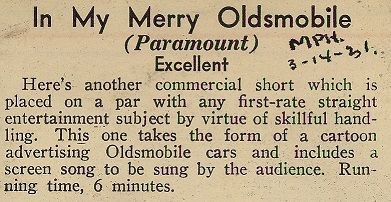 In My Merry Oldsmobile (1931) - Max Fleischer produced this funny, slightly risqué cartoon as a sponsored promotion for the Olds Motor Works. It includes a bouncing ball sing-along segment featuring the already popular (since 1905) title song.
My Lady's Garden (1934) - Paul Terry's Terrytoons studio produced this charming animated operetta depicting the (inter-species) romance between a butterfly and a fly, who must rescue his bride-to-be from an evil spider.
Blame it on the Samba (1945/1955) - In a seamless, tour-de-force blend of live-action and animation, (real live) organist Ethel Smith plays a spicy samba as a cartoon world swirls around her. This segment from the feature film Melody Time was later released to theaters as a cartoon short.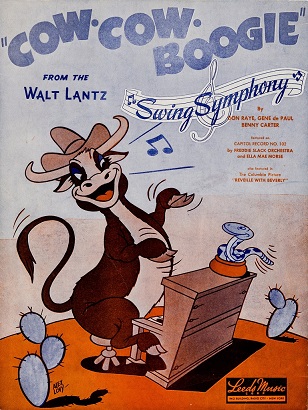 Plus Hep Mother Hubbard (1956), Musical Memories (1935), Tweet Music (1951)...and much more.
---
Crazy 1960s Eurospy epic Lightning Bolt
in 35mm at Bryn Mawr Film Institute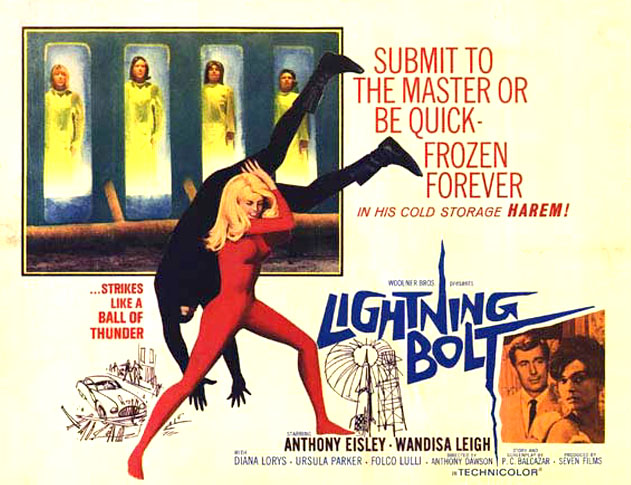 Bryn Mawr Film Institute
824 W. Lancaster Avenue, Bryn Mawr, PA
(610) 527-9898
Thursday, May 3, 2018
7:30 pm
Admission:$12.50, $6.50 (members), $10 (seniors/students)
On Thursday, May 3, the Secret Cinema will return to the Bryn Mawr Film Institute for a screening of the 1966 "Eurospy" classic Lightning Bolt. This Italian-made, low-budget cash-in on the James Bond phenomenon is campy fun, yet still manages to dazzle with impressive sets, snappy music (from celebrated composer Riz Ortolani) and explosive special effects. Lightning Bolt will be shown using a rare IB Technicolor, Cinemascope 35mm print, projected onto the BMFI big screen -- the way all movies should be seen!
In addition to the feature, the program will also include surprise short subjects.
There will be one complete show at 7:30 pm. Admission is $12.50, $6.50 (BMFI members), $10 (seniors and students).
While we normally are proud to announce that "All Secret Cinema presentations are projected in 16mm film on a giant screen," once again we are even prouder to announce that this show will be projected in even higher-quality 35mm film, on an even gianter screen than usual. As always, we will be having nothing to do with video/digital presentation.
A complete description of the feature follows...
Lightning Bolt (1966. Dir: Antonio Margheriti)
James Bond movies became a full-fledged global phenomenon in the mid-1960s, and the entertainment industry responded with a flood of imitations. Hollywood gave us Matt Helm, Derek Flint and Napoleon Solo, while Italy, Spain and France gave us a seemingly non-stop barrage of what are now called "Eurospy" movies: low-budget secret agent flicks, often starring lesser-known American actors in the lead roles. Some Eurospies made it to our shores with dubbed soundtracks and varying success, and one of the most enjoyable of these was Lightning Bolt (or Operazione Goldman in its native Italy).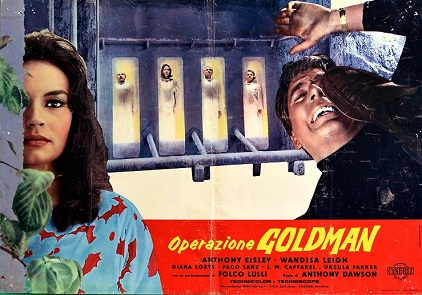 The story concerns an evil beer brewer (!) who is sabotaging NASA launches (shown via grainy stock footage), in an attempt to place a laser gun on the moon and thus control Earth. Sent to stop this is handsome American actor Anthony Eisley (Philadelphia-born former star of TV's Hawaiian Eye). Eisley narrates the film in a Bogart-derived detective-ese, and oddly, he often gets his way by buying rather than spying, wielding a fat checkbook to thwart his enemies! Lightning Bolt borders on parody, with often impossible to follow plot elements, but remains fun with plenty of action, beautiful female superagents and an impressive, Our Man Flint-type hi-tech hideout for the villain. The bad dubbing, crazy story-line and weird sight of Italian actors dressed as American soldiers only add to the feverish, surreal experience of the movie. Dismissed by most (if noticed at all) on its original American release, in recent times Lightning Bolt has been rediscovered by modern viewers as one of the most enjoyable entries among dozens of more routine Eurospy movies.
The film's perky music was created by Italian composer Riz Ortolani, a Grammy winner for the international hit song "More" (from his soundtrack to notorious "shockumentary" Mondo Cane. Ortolani's work began to be rediscovered (and his soundtrack albums became more collectible) during the exotica/lounge music revival of the 1990s.
NOTE: Our print looks much nicer than the low-res trailer seen here!
---
FUTURE SECRET CINEMA EVENTS (more info soon):
Thursday, April 19, 2018 @ The International: Grand opening party with D.J. Silvia & Jay Schwartz (and others too!) POSTPONED
Saturday, April 21, 2018 @ Lightbox Film Center: One Year Celebration with D.J. Silvia spinning '60s Europop
Friday, April 27, 2018 @ The International: Made in Spain with D.J. Silvia & Jay Schwartz POSTPONED
Thursday, May 10, 2018 @ The Rotunda: TBA
Wednesday, May 23, 2018 @ Johnny Brenda's: D.J. Jay Schwartz at I Belonged to the Blank Generation: Hard Hits and Deep Cuts from the Original Punk/New Wave Era, 1976-1979
Saturday, May 26, 2018 @ The Living Room at 35 East, Ardmore: TBA
---
If you'd like to subscribe to announcements of upcoming Secret Cinema events, then e-mail us by clicking HERE. Please specify in your message where you are located.
Click HERE to learn the history of Secret Cinema.
Click HERE to read about recent Secret Cinema events.
RELATED LINKS:
Channel 29 news piece on Secret Cinema from 1999!
Secret Cinema 1999 Annual Report
Secret Cinema 1998 Annual Report
Secret Cinema 1997 Annual Report
Information about the 1998 Secret Cinema "Class Trip" to the Syracuse Cinefest
---
Last Updated: 4/10/18
WebMasters: Rodney Linderman & Jay Schwartz
© copyright 2018