Last Updated: 11/15/16


ALL SECRET CINEMA PRESENTATIONS ARE SHOWN IN 16MM FILM ON A GIANT SCREEN (NOT VIDEO...NOT EVER!)
---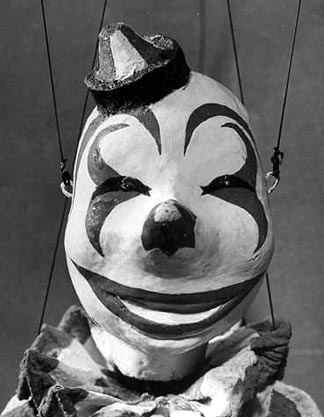 Creepy Puppet Films
at University City's Rotunda
Saturday, November 26, 2016
8:00 pm
Admission: $8.00
The Rotunda
4014 Walnut Street, Philadelphia
Puppetry is an age-old artform that has charmed and delighted both children and adults for countless generations. And, puppets have been a source of inspiration to filmmakers almost since the movies began.
So why do puppets become so...creepy, when filmed and projected on a giant screen?
On Saturday, November 26, the Secret Cinema will attempt to answer that question -- or at least show our favorite examples of this peculiar genre of cinema -- when we present Creepy Puppet Films at the Rotunda. Using assorted educational and entertainment shorts from past decades, we'll show films using hand puppets, marionettes, and stop-motion animated figures and claymation. Some were made by great masters of special effects like George Pal and Ray Harryhausen. Others were made by nameless hacks for forgotten educational film mills. Yet, they are all creepy.
Secret Cinema originally presented Creepy Puppet Films seven years ago, almost to the date (and we showed it one more time, more recently, at New York's Anthology Film Archives).
There will be one complete screening starting at 8:00 pm. Admission is $8.00.
A few highlights of Creepy Puppet Films include: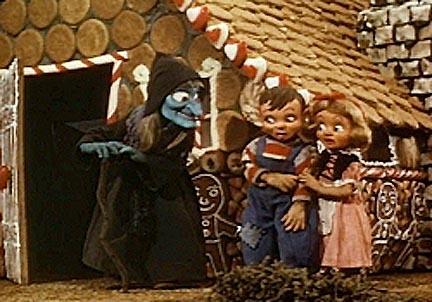 Hansel and Gretel (1951, Dir: Ray Harryhausen) - This early work from stop-motion master Ray Harryhausen was from a series of animated fairy tale shorts in which he explored the techniques he would soon perfect in features like Jason and the Argonauts. Harryhausen began his experimentation as a teenager, shortly after being entranced by Willis O'Brien's pioneering special effects in King Kong.
George Pal Puppetoon (1940s, Dir: George Pal) - George Pal's "Puppetoon" shorts showed a brilliant imagination and flawless stop-motion technique. We'll show an example from this oft-overlooked series, from the Hungarian animator who went on to create sci-fi feature film classics like War of the Worlds.
Making Change (1970s, Dir: Unknown) - From the sublime to the hackneyed-beyond-belief: This short was made during the peak sales years of the 16mm educational film industry. It employs the crudest of stick puppets to teach money math skills to grade school kids.
Gumby: Hot Rod Granny (1957, Dir: Art Clokey) - Claymation superstar Gumby encounters a speed crazed senior citizen racing an animated plastic model kit roadster around the town.
Pirro and the Scale (1948, Dir: Alvin J. Gordon) - Marionette clown Pirro imparts a valuable lesson on weight and measurement. A 1951 guide book for teachers thought that "Pat Patterson, who created and manipulates the puppet, provides the running commentary, which is warm and pleasant at its best, at worst too nervously repetitive." That's part right.
...and much, much more!
---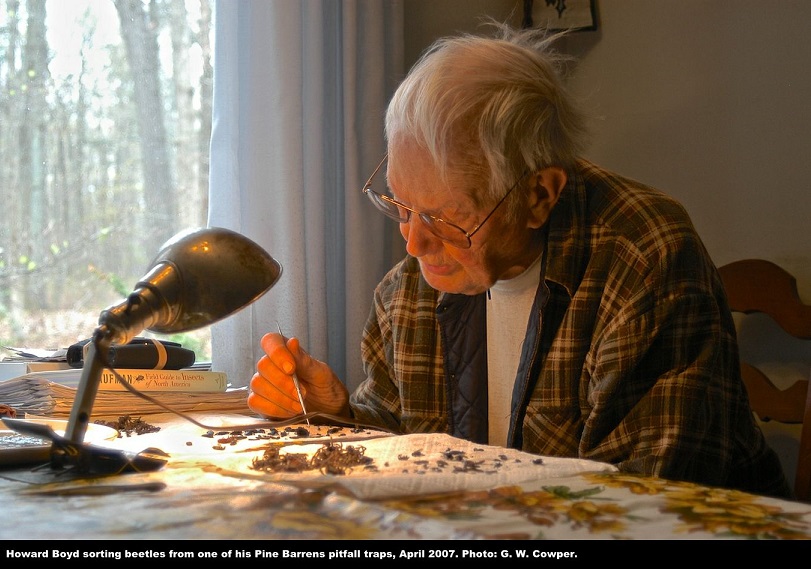 New Jersey Pine Barrens films in historic library
of Academy of Natural Sciences
Wednesday, November 30, 2016
7:00 pm
Admission: FREE
The Academy of Natural Sciences of Drexel University
Use 19th Street entrance.
1900 Benjamin Franklin Parkway, Philadelphia
(215) 299-1000
On Wednesday, November 30, the Secret Cinema will help present a program of nature films focusing on wildlife in the New Jersey Pine Barrens. The screening will take place in the historic library of the Academy of Natural Sciences (built 1876), during a working meeting of the equally historic American Entomological Society. This event honors the memory of late filmmaker, writer, and naturalist Howard P. Boyd, the pre-eminent scholar on the Pine Barrens.
The meeting starts promptly at 7:00 pm, and is open to the public. Admission is free. Attendees should use the 19th Street entrance to the Academy.
Featured will be Howard and Doris Boyd's film Life on a Coastal Plain, a beautifully photographed, silent look at the variety of flora and fauna found in the Pine Barrens. Howard and his wife would travel with films they had produced such as this, and present them with a live narration to groups around the country (AES members will provide narration for this showing).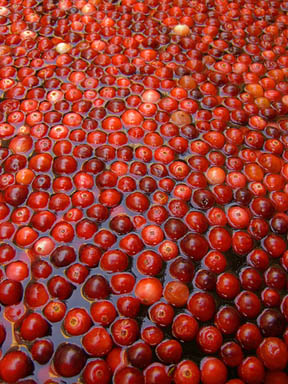 Also on the bill is a rare 1940s short from the Secret Cinema archive, Cranberry Industry of New Jersey, which details the unusual process of growing and harvesting this traditional Thanksgiving treat, in glorious Kodachrome. Plus, we'll show some very early educational films about insects.
About Howard Boyd: The entomologist, author, activist and Pine Barrens guru served as president of the AES from 1977–1981, and was editor of its scientific journal, Entomological News, for almost 30 years. He was a leading expert in scientific circles on the insect group Cicindelinae, the Tiger Beetles. Howard was a conservationist, educator and authority on the ecology of the Pine Barrens. In 1991 he penned his first book, A Field Guide to the Pine Barrens of New Jersey: Its Flora, Fauna, Ecology and Historic Sites, which is recognized as the definitive field guide to the New Jersey Pinelands. In 2004, he was one of two premiere inductees into the Pine Barrens Hall of Fame, established by the Pinelands Preservation Alliance to honor heroes of Pine Barrens protection. By 2006, Howard, with the AES, spearheaded a five-year insect diversity study of the approximately 11,000 acre Franklin Parker Preserve, a reclaimed cranberry operation in Chatsworth, New Jersey. Howard, with his wife Doris as photographer, produced and presented films through the National Audubon Society Wildlife Film Tours from 1966 to 1976.
About the American Entomological Society: AES is the oldest continuously operating organization devoted to the study of insects in the New World. It began in Philadelphia in 1859 as the Entomological Society of Philadelphia, broadened its scope and name in 1867 to the American Entomological Society, and in 1876, moved its rooms, library and collections to the Academy of Natural Sciences, where it still holds its meetings today.
AMERICAN ENTOMOLOGICAL SOCIETY WEBSITE
---
FUTURE SECRET CINEMA EVENTS (more info soon):
Thursday, December 1 @ Haverford College: Flaherty Film Seminar screening
Tuesday, December 6 @ The Woodmere Museum: Wings with live music from Don Kinnier! (Chestnut Hill Film Group screening)
Wednesday, January 11, 2017 @ Bryn Mawr Film Institute: From Philadelphia With Love ("Best of" edition)
---
If you'd like to subscribe to announcements of upcoming Secret Cinema events, then e-mail us by clicking HERE. Please specify in your message where you are located.
Click HERE to learn the history of Secret Cinema.
Click HERE to read about recent Secret Cinema events.
RELATED LINKS:
Channel 29 news piece on Secret Cinema from 1999!
Secret Cinema 1999 Annual Report
Secret Cinema 1998 Annual Report
Secret Cinema 1997 Annual Report
Information about the 1998 Secret Cinema "Class Trip" to the Syracuse Cinefest
---
Last Updated: 11/15/16
WebMasters: Rodney Linderman & Jay Schwartz
© copyright 2016