Last Updated: 11/16/18


ALL SECRET CINEMA PRESENTATIONS ARE SHOWN IN 16MM (or larger!) FILM ON A GIANT SCREEN (NOT VIDEO...NOT EVER!)
---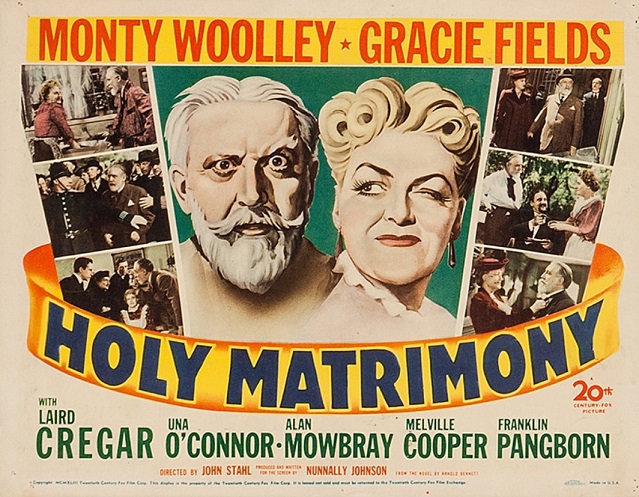 Charming 1943 comedy Holy Matrimony
at Woodmere Museum
Tuesday, November 20, 2018
7:30 pm (doors opne 6:30 pm)
Admission: FREE>
Woodmere Art Museum
9201 Germantown Avenue, Philadelphia
(215) 247-0476
On Tuesday, November 20, the Secret Cinema will present Holy Matrimony, a charming, offbeat comedy, and an effective showcase for the talents of its now near-forgotten stars: Monty Woolley and Gracie Fields.
Before the feature, there will be surprise short films from the Secret Cinema archive.
There will be one complete screening, starting at 7:30 pm (Doors open 6.30 pm). Admission is free.
The Chestnut Hill Film Group is Philadelphia's longest-running repertory cinema series.
Holy Matrimony (1943, Dir: John M. Stahl) – When a legendary and reclusive British artist living on a remote island (Monty Woolley) is called upon to be Knighted, he begrudgingly plans to attend the ceremony. But when his valet suddenly dies, he devises a way to find even more privacy, changing identities with the dead man. This leads to all sorts of unforeseen complications, especially when he encounters the charming, pen pal fiancée of his valet (Gracie Fields), who naturally assumes that he is the long distance lover she had never met. And that's just about where this heartwarming yet satiric tale begins, with many amusing twists to come. The source novel by Arnold Bennett had been filmed three times already but this is the one to see. The film's screenwriter, Nunnally Johnson (The Grapes of Wrath, The Prisoner of Shark Island, recent Secret Cinema feature Thanks a Million and many other classics) tailored his script to the unique talents of the two leads, and won an Oscar nomination in the process (he also produced the film).
Monty Woolley lent his distinguished, dignified presence to acting late in life, after teaching English and dramatics at Harvard to students like Thornton Wilder and Steven Vincent Benèt. The impeccably groomed Woolley, nicknamed "The Beard" by Yale classmate Cole Porter, began to act on Broadway and films in mostly character parts. At age 50 he achieved unlikely stardom as The Man Who Came to Dinner, the title character of which was based on "Algonquin Round Table" wit Alexander Woolcott.
Gracie Fields was the 1930s' biggest star in Britain, having had tremendous success on stage, screen, records and radio when Darryl F. Zanuck brought her to 20th Century-Fox. A former music hall performer who grew up above a Lancashire fish-and-chips shop, authors Robert Graves and Alan Hodges wrote that Fields' "humorous, long-suffering but optimistic sentiment more truly represented contemporary England than slick Americanistic film comedies or heavily modern problem plays." Her gentle humor shines in Holy Matrimony, as do many of Hollywood's best character actors, including Eric Blore, Franklin Pangborn, Una O'Connor, George Zucco, Laird Cregar and Billy Bevan.
---
FUTURE SECRET CINEMA EVENTS (more info soon):
Wednesday, November 29, 2018 @ The Bok Building: ASSEMBLY: UNDERGROUND FILMS AND PHILLY LEGENDS (Secret Cinema is one segment of this multi-presenter event)
Thursday, March 14, 2019 @ Towson University, Maryland: program of technology films TBA
---
If you'd like to subscribe to announcements of upcoming Secret Cinema events, then e-mail us by clicking HERE. Please specify in your message where you are located.
Click HERE to learn the history of Secret Cinema.
Click HERE to read about recent Secret Cinema events.
RELATED LINKS:
Channel 29 news piece on Secret Cinema from 1999!
Secret Cinema 1999 Annual Report
Secret Cinema 1998 Annual Report
Secret Cinema 1997 Annual Report
Information about the 1998 Secret Cinema "Class Trip" to the Syracuse Cinefest
---
Last Updated: 11/16/18
WebMasters: Rodney Linderman & Jay Schwartz
© copyright 2018