Last Updated: 10/20/18


ALL SECRET CINEMA PRESENTATIONS ARE SHOWN IN 16MM (or larger!) FILM ON A GIANT SCREEN (NOT VIDEO...NOT EVER!)
---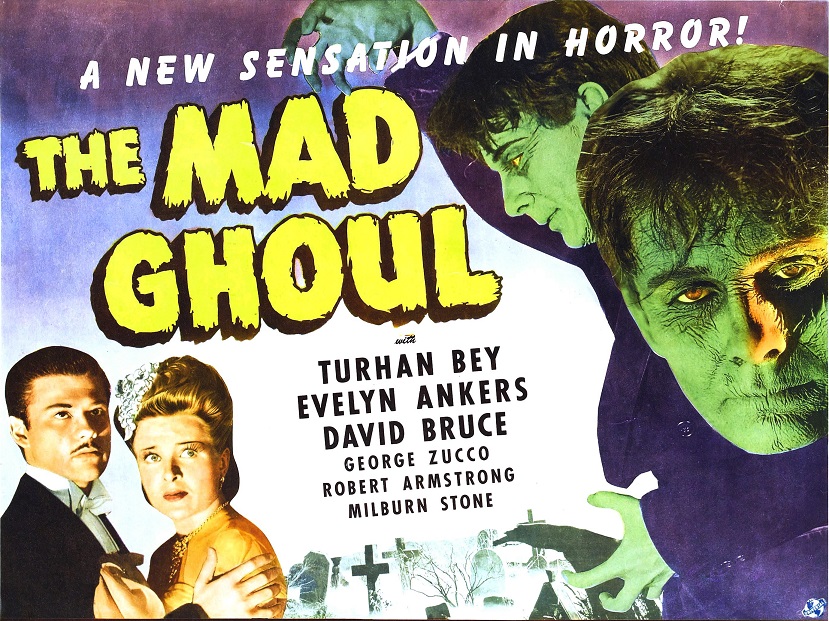 The Secret Cinema Halloween Grab Bag,
featuring The Mad Ghoul (1943)
Sunday, October 28, 2018
7:00 pm
Admission: $13.00
The Living Room at 35 East
35 East Lancaster Avenue
Ardmore, Pa.
On Sunday, October 28, the Secret Cinema will present our only horror-themed program of the season, when we present The Secret Cinema Halloween Grab Bag (admittedly three days before Halloween). The main attraction will be Universal's rarely-shown 1943 mad scientist/horror feature The Mad Ghoul. And, since this "b-movie" classic runs just a snappy 65 minutes, we'll include an extra-generous helping of surprise short subjects to round out the show -- all with a spooky or supernatural theme!
It takes place at The Living Room at 35 East, in the heart of downtown Ardmore. Singer-songwriter Laura Mann recently opened this intimate space to provide a comfortable setting for the enjoyment of live music, poetry, comedy and now, films. The venue serves coffee, soft drinks and snacks, but is BYOB for alcohol.
There will be one complete show at 7:00 pm. Admission is $13.00.
ADVANCE TICKETS AVAILABLE HERE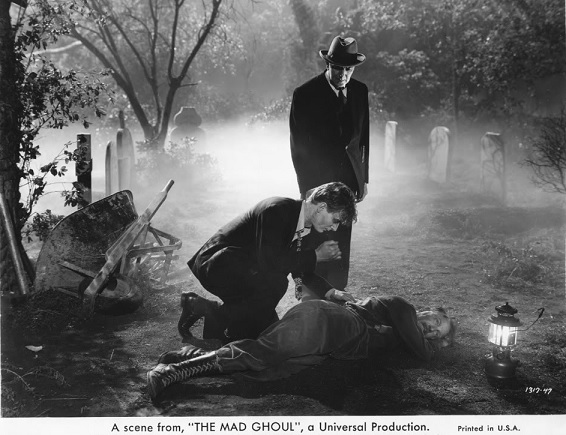 The Mad Ghoul (1943, Dir: James Hogan) - This overlooked Universal horror was called "best of the bunch" by author Don Miller, in a comparison of the studio's genre output of the era. It stars George Zucco in perhaps his ultimate mad scientist role, as a professor experimenting with a gas used by ancient Egyptians to turn enemies into zombies! Jealously in love with the fiancée of his assistant (David Bruce), he tests the formula on him, causing the transformed victim to require fluid from human hearts to survive. Soon there are grave robbings and murders, and things only get worse from there. Rounding out the excellent cast are Robert Armstrong (King Kong), "scream queen" Evelyn Ankers and Turhan Bey. "An unusually classy B picture, thanks largely to (Milton) Krasner's camerawork and excellent performances...(with) Zucco, at his unctuous best." - Phil Hardy, The Encyclopedia of Horror Movies.
Spooky short subjects will include cartoons, trailers and other surprise short films...including one in 3-D!
---
FUTURE SECRET CINEMA EVENTS (more info soon):
Thursday, November 8, 2018 @ The Rotunda: Top Secret: Films You Weren't Supposed to See
Sunday, November 11, 2018 @ Johnny Brenda's: D.J. Jay Schwartz spins a sunshine pop brunch!
Monday, November 20, 2018 @ The Woodmere Museum: Chestnut Hill Film Group presents Holy Matrimony
---
If you'd like to subscribe to announcements of upcoming Secret Cinema events, then e-mail us by clicking HERE. Please specify in your message where you are located.
Click HERE to learn the history of Secret Cinema.
Click HERE to read about recent Secret Cinema events.
RELATED LINKS:
Channel 29 news piece on Secret Cinema from 1999!
Secret Cinema 1999 Annual Report
Secret Cinema 1998 Annual Report
Secret Cinema 1997 Annual Report
Information about the 1998 Secret Cinema "Class Trip" to the Syracuse Cinefest
---
Last Updated: 10/20/18
WebMasters: Rodney Linderman & Jay Schwartz
© copyright 2018