Last Updated: 1/14/17


ALL SECRET CINEMA PRESENTATIONS ARE SHOWN IN 16MM FILM ON A GIANT SCREEN (NOT VIDEO...NOT EVER!)
---

Be Careful!: Social Guidance and Industrial Jeopardy Films
at Fleisher Art Memorial
Friday, January 27, 2017
8:00 pm
Admission: $8.00
Fleisher Art Memorial
719 Catharine Street, Philadelphia
215-922-3456 ext. 300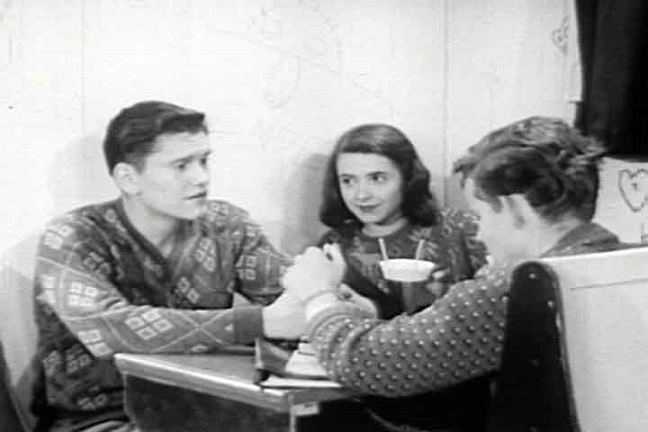 We've shown many themed groupings of short films over the nearly 25 years of Secret Cinema programming -- but surprisingly, only once before (10 years ago!) did we devote an evening to the social guidance film. A subset of the educational, or classroom film genre, social guidance films exist not to teach children the traditional school wisdom of history, science and grammar, but to impart to their unformed minds the correct attitudes and behavior. They came into their own in the post-war years, and were omnipresent in American schools in the 1950s and '60s. In recent decades they have been rediscovered, in documentaries like The Atomic Cafe, in books like Mental Hygiene, and on cable television and numerous home video compilations. The Congress-created National Film Registry even named one of the most (in)famous social guidance films, Duck and Cover, to its pantheon of important films.
It's time to revisit this rich genre, and we'll do so on Friday, January 27, when we will compile, for the second time, some of the best S.G. reels from our private archive into one big show. And while social guidance films seem to be everywhere nowadays (yep, on the internet too), the best way to see them is in the dark -- using real film projected onto a big screen (albeit a screen much bigger than found in any classroom), among a group of one's peers (albeit peers many years past the target audience of most of these films).
Be Careful!… will be shown in the beautiful Sanctuary of the Fleisher Art Memorial in Philadelphia's Bella Vista neighborhood (just South of Center City). Free parking is available in the Fleisher's parking lot, just across the street.
This new program will differ a bit from our previous social guidance outing, in that it will include films aimed at older audiences, as well as at children. "Industrial Jeopardy" is a genre named by film archivist Rick Prelinger (in ReSearch Publications' landmark 1986 book Incredibly Strange Films), to collectively include educational shorts that attempted to prevent life-threatening misbehavior by workers, motorists and homemakers.
There will be one complete show, at 8:00 pm. Admission is $8.00.
Be Careful!… will include many rare titles never before shown by us, and others not seen for many years. They will span many different years and show examples of work from important producers of social guidance film like Coronet (originally a division of Esquire Magazine) and Young America Films. Just a few highlights will be: You and Your Parents, Meeting Strangers: Red Light Green Light, Dope is for Dopes, Accidents Don't Happen and Options to Live.
---
FUTURE SECRET CINEMA EVENTS (more info soon):
Saturday, February 11, 2017 @ Fairmount Park Horticulture Center: TBA
March 2017: Secret Cinema 25th Anniversary!! Details TBA!
Tuesday, April 11, 2017 @ CHFG/Woodmere Art Museum: The Kid Brother
Thursday, May 11, 2017 @ Bryn Mawr Film Institute: TBA
---
If you'd like to subscribe to announcements of upcoming Secret Cinema events, then e-mail us by clicking HERE. Please specify in your message where you are located.
Click HERE to learn the history of Secret Cinema.
Click HERE to read about recent Secret Cinema events.
RELATED LINKS:
Channel 29 news piece on Secret Cinema from 1999!
Secret Cinema 1999 Annual Report
Secret Cinema 1998 Annual Report
Secret Cinema 1997 Annual Report
Information about the 1998 Secret Cinema "Class Trip" to the Syracuse Cinefest
---
Last Updated: 1/14/17
WebMasters: Rodney Linderman & Jay Schwartz
© copyright 2017