Last Updated: 8/25/15


ALL SECRET CINEMA PRESENTATIONS ARE SHOWN IN 16MM FILM ON A GIANT SCREEN (NOT VIDEO...NOT EVER!)
---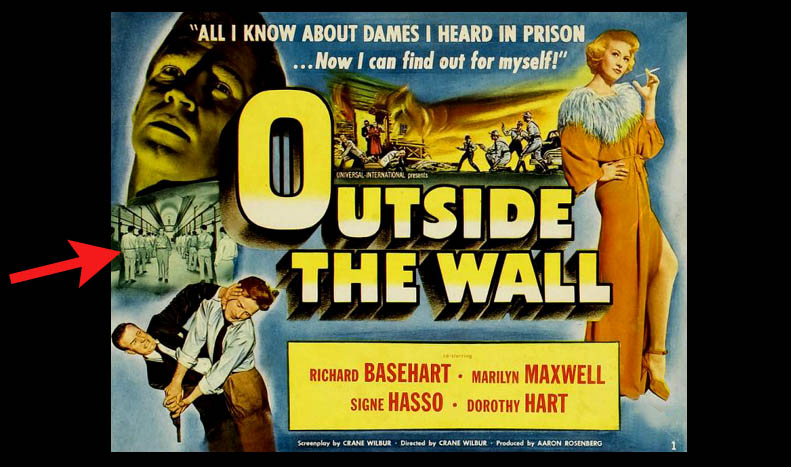 Locally-shot 1950 film Outside the Wall
at Eastern State Penitentiary
Friday, September 11
8:00 pm (Doors open at 7:00 pm)
Admission: $10.00
Eastern State Penitentiary
22nd & Fairmount Streets, Philadelphia
(215) 236-3300
1998 was the year that Eastern State Penitentiary's Sean Kelley asked the Secret Cinema if we would like to present a prison-themed film inside the historic prison museum. Naturally, we said yes, and we've happily presented a different prison film there almost every year since then. But in that very first year, Sean asked if we could show a 1950 movie we were not familiar with called Outside the Wall -- because it was partially filmed in Eastern State Penitentiary (and elsewhere in Philadelphia).
Since Secret Cinema only shows films using real film, that meant we'd have to find an actual print of this obscure title to present it, but none were to be found. We instead selected another prison movie to show that year…and kept searching for Outside the Wall.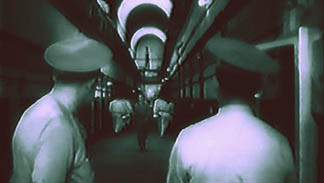 Seventeen years later, we are thrilled to announce that just this week we have received a rare 16mm print of this locally-shot feature from overseas, and will present it at Eastern State Penitentiary -- the same spot where scenes were filmed 66 years earlier -- on Friday, September 11. This will be a fitting choice for Secret Cinema's 15th presentation at ESP.
As usual, we'll be entertaining our "captive" audience by projecting prison-themed film fare in a screening room complete with real steel bars, echoing the scenes on screen in a unique twist on "3-D" movies. Since the first Secret Cinema/ESP event, we've presented prison film subgenres ranging from death row drama, women in prison, tough film noir, '70s sexploitation, chilling documentary, and even a prison-set Laurel and Hardy comedy.
The program will also include a surprise short subject. There will be one complete show, starting at 8:00 pm. Doors open at 7:00 pm, allowing the audience time to take a look at many new and existing museum exhibits at ESP. Admission is $10.00.
A full description of the feature follows.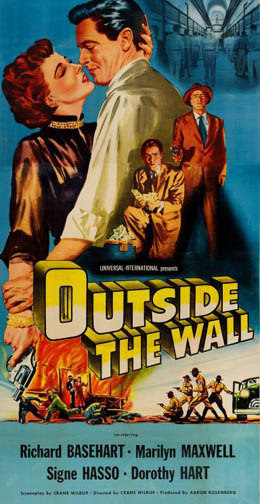 Outside the Wall (1950, Dir: Crane Wilbur)
Richard Basehart stars as Larry Nelson, a young man who has spent most of his life in reform schools and prison. He is granted a pardon from Eastern State Penitentiary, and must nervously venture into a world outside that he has almost completely forgotten. As he explores the mean Philadelphia streets, he encounters street fights, B-girls trying to con him, and armed robbers. Larry escapes to a peaceful small town where he finds work as a lab assistant in a sanitarium. He falls for a cold-hearted beauty (Marilyn Maxwell) with expensive tastes, leading him to become deeply entangled with vicious criminals from his past, leading to a violent climax.
Outside the Wall mixed studio-shot footage with several Philadelphia locations, including City Hall, Philadelphia General Hospital and, according to an Evening Bulletin account of the filming, "a flophouse near 8th and Race." Eastern State Penitentiary is introduced as "a prison modeled on the lines of a medieval fortress." The cast includes noir femme fatales Signe Hasso and Dorothy Hart, Harry (Dragnet) Morgan and Joe Besser of the Three Stooges, but the accents of inmates, prison guards and police officers reveal that casting for the Philly scenes was done locally. Bulletin reporter Harry Harris noted that these actors were hired through a local theatrical booking agency, and "Many of them are Philadelphians who usually earn their livelihoods as acrobats, dancers, musicians and in other facets of show business."
Director Crane Wilbur celebrated his 45th year in show business when he wrote and directed Outside the Wall. After working in Broadway, he began in movies as an actor, playing handsome heroes in silent serials like The Perils of Pauline and The Road O' Strife (the latter made in Philadelphia by Siegmund Lubin). He began writing and directing in 1916, and continued working until the late 1960s. Wilbur, who was known for doing careful research on the subjects of his film projects, became an expert on making prison films. He wrote and/or directed 12 of them (including two other features Secret Cinema presented at Eastern State in past years). He also wrote scripts for such notable noir and crime films as He Walked by Night, Crime Wave, and The Phenix City Story, as well as the 3-D hit House of Wax.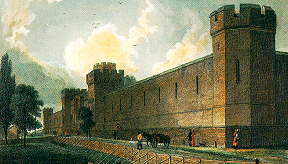 Eastern State Penitentiary, built in the 1820s, is a world famous historic landmark, which influenced the design of hundreds of other prisons. Closed as a working prison since 1971, the decaying structure, which once housed Al Capone and Willie Sutton, has become a popular tourist attraction and museum over the last two decades. The film will be projected right inside the main prison building in a hallway just outside Capone's cell, surrounded by iron bars and ghosts of convicts past.
---
FUTURE SECRET CINEMA EVENTS (more info soon):
Friday, October 28 @ American Philosophical Society: Program to be announced.
---
If you'd like to subscribe to announcements of upcoming Secret Cinema events, then e-mail us by clicking HERE. Please specify in your message where you are located.
Click HERE to learn the history of Secret Cinema.
Click HERE to read about recent Secret Cinema events.
RELATED LINKS:
Channel 29 news piece on Secret Cinema from 1999!
Secret Cinema 1999 Annual Report
Secret Cinema 1998 Annual Report
Secret Cinema 1997 Annual Report
Information about the 1998 Secret Cinema "Class Trip" to the Syracuse Cinefest
---
Last Updated: 8/25/15
WebMasters: Rodney Linderman & Jay Schwartz
© copyright 2015