Last Updated: 7/16/14


ALL SECRET CINEMA PRESENTATIONS ARE SHOWN IN 16MM FILM ON A GIANT SCREEN (NOT VIDEO...NOT EVER!)
---
We're back!
(This site will NOT harm your computer.)
The website you are looking at had not been updated from last November until now (July 2014). The reason is that Google was insisting that our humble, minimal, web v1.0 site would harm your computer. Some browsers like Chrome would virtually forbid you from looking at it, so we figured there was no point in using the website until those warnings were removed.
That took some doing, especially as the web hosting company kind of dropped the ball in figuring out the problem. But at last we seem to be harm-free, and it's high time we reestablished the Secret Cinema's presence.
Coinciding with our website troubles, there was a lessening of our activity, due to a combination of being busy with other things (like moving to a new home), and not having access to enough suitable venues. We're always on the lookout for the latter, and we're now planning future events at spaces both new and familiar to longtime Secret Cinema fans (meanwhile, we welcome invitations from interested venues).
Meanwhile, in the interim since our last website update, we've still managed some activity: the showing of a lovely 35mm print of little-seen, quasi-noir suspense film Dark Waters at International House; another Chestnut Hill Film Group screening at the Woodmere Museum; our annual projection job for the Betzwood Film Festival, as well as 16mm projection of two programs of avant garde shorts at the Rotunda, for Penn's Cinema Studies department. And last January, we provided a private Secret Cinema event for the American Library Association convention.
A few of you were kind enough to alert us to the website issue, and others wrote to see if we were still in business. While it is challenging to keep Secret Cinema going in 2014, we intend to keep this up as long as we can – and to keep projecting real film, just as we've done since 1992. That can be tricky as equipment ages, finding spare projector parts and supplies gets tricky, and film prints die of natural causes, but the Secret Cinema is nothing if not resourceful. Thank you for your loyalty and sustained interest in our film screenings over the last 22+ years.
Jay Schwartz
The Secret Cinema
---
1934 colonial era sex comedy at
American Philosophical Society Museum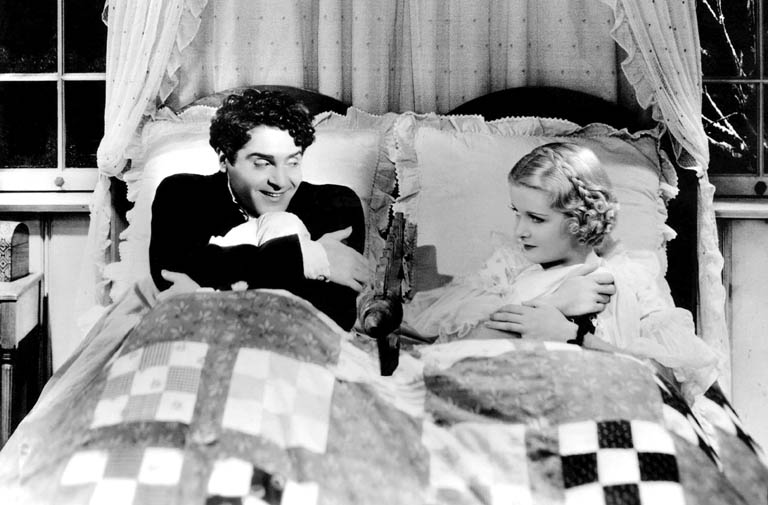 Wednesday, July 23, 2014,
7:00 pm (doors open 6:00 pm)
Admission: FREE
American Philosophical Society Museum
Philosophical Hall
104 South Fifth Street, Philadelphia
215-440-3442
On Wednesday, July 23, 2014, the Secret Cinema will return to the American Philosophical Society Museum to present The Pursuit of Happiness, a 1934 romantic comedy set in the Revolutionary Era. With a winning cast and a novel setting, The Pursuit of Happiness is surely the only Hollywood film with a focus on bundling boards. In 1700's New England, young betrothed couples got to know each other better by "bundling." That is, they were encouraged to sleep together on cold winter nights -- fully clothed, with a wooden board to separate them.
There will also be a surprise short subject. Noted movie historian Richard Barrios will introduce the feature, and lead a post-film discussion.
This will be the first of two Secret Cinema events at the APS Museum this year celebrating their current exhibition, Jefferson, Philadelphia, and the Founding of a Nation. Details of the next screening (on Wednesday, October 1, 2014) will be announced soon.
This Secret Cinema event will feature a chance to explore the exhibition, free refreshments and snacks, and a fascinating screening (as always with Secret Cinema, using real film projected on a giant screen). Best of all, admission is free.
On the screening day, the museum doors will open at 6:00 pm, allowing time to explore the exhibition. The film screening starts at 7:00 pm. Seating is limited.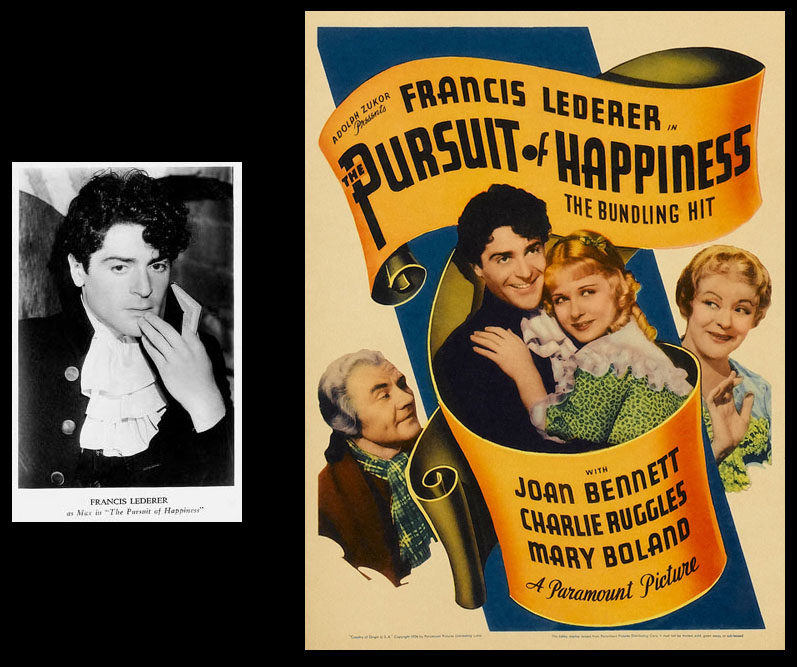 The Pursuit of Happiness (1934, Dir: Alexander Hall)
Few commercial American films -- let alone comedies -- have used the American Revolution for their subject matter, yet The Pursuit of Happiness does so with breezy success. It was adapted quite liberally from a 1932 Broadway play, and on film as on the stage, its main talking point was "bundling," a genuine early-American courting custom that also happened to offer a spot-on way to imply sex within the strictures of the newly-enforced Production Code. The film version was conceived as a vehicle for the dashing Czech actor Francis Lederer, who had already established himself as a matinee idol in European film and on Broadway. His U.S. film debut had come earlier in 1934, and was somewhat uneasy, since he was cast as an Inuit (Eskimo) in Man of Two Worlds. For this, his second American film, he was given solo star billing and a far happier use of his talent. Indeed, anyone wanting to experience true leading-man charisma, Hessian or otherwise, need look no further than here. With Lederer's stupendous charm, and with the fresh and lovely Joan Bennett, the filmmakers were able to sidestep any potential danger of censorship. Of course, it all looks incredibly innocent eighty years later. One of the many nice things about Pursuit... is how, even with its Revolutionary War setting, it manages to sustain its genial tone all the way to the end. It helps, of course, to have two such likable leads, who are aided in their efforts by beautiful camera work from master cinematographer Karl Struss, and by the presence of skilled comedic actors Charlie Ruggles and Mary Boland. For a light studio-era entertainment, The Pursuit of Happiness manages to cover quite a few bases -- an American history lesson, an exercise in patriotism, and a sweet romantic comedy. And what's not to like about a movie that casts the haughty Mary Boland as someone named "Comfort"? - Richard Barrios
About Richard Barrios: Film historian Richard Barrios' new book Dangerous Rhythm: Why Movie Musicals Matter (Oxford University Press) was reviewed by the New York Times, Wall Street Journal and Philadelphia Inquirer. He is also the author of the award-winning A Song in the Dark: The Birth of the Musical Film, and Screened Out: Playing Gay in Hollywood From Edison to Stonewall. The latter book inspired a month-long TCM film series, which Barrios programmed and co-hosted. Richard Barrios has written on film for the New York Times, provided commentary tracks for several DVDs, and appeared in the PBS film Busby Berkeley: Going Through The Roof as well as numerous DVD documentaries and the recent HBO documentary feature Vito. He has lectured for the Library of Congress and the American Film Institute, and serves on the Advisory Board of the Smithsonian Institution's Warner Bros. Theater. Richard Barrios lives just outside of Philadelphia.
About Jefferson, Philadelphia, and the Founding of a Nation This exhibition commemorates Jefferson's long association with Philadelphia. The first half focuses on his visits to the city in 1775 and 1776, when, as a delegate to the Continental Congress, he was selected to draft the Declaration of Independence. A handwritten copy of Jefferson's draft, which includes annotations showing passages that were later deleted by Congress has been specially framed for the exhibition so that his handwriting on both sides of document is visible. This exhibition places Jefferson in the context of an intellectual circle in Philadelphia that was steeped in Enlightenment thought and revolutionary fervor. The second half of the exhibition reveals Philadelphia as it was in the last decade of the 18th century, when Jefferson returned to serve as Secretary of State for George Washington and Vice President for John Adams. In 1797, he became president of the American Philosophical Society (APS) and continued in that role until 1814 -- before, during, and after he was President of the United States. In a letter accepting the APS position, he stated that he deemed it "the most flattering incident of my life, & that to which I am the most sensible."
Jefferson, Philadelphia, and the Founding of a Nation is the first of three exhibitions on Jefferson to be held at the American Philosophical Society (APS) Museum from 2014 through 2016. Support provided in part by the Philadelphia Cultural Fund and the Pennsylvania Historical and Museum Commission.
About the APS: When Benjamin Franklin and friends decided, in 1743, to establish the American Philosophical Society (APS), they studied nature and called themselves natural philosophers. Now we'd call them scientists. But the word "philosophical" stuck. Over the years, the APS has counted among its members individuals as varied as George Washington, Charles Darwin, and Yo-Yo Ma.
The APS has gathered and preserved a rich collection that traces American history and science from the Founding Fathers to the computer age. It includes scientific specimens and instruments, and more than ten million manuscripts.
The APS Museum combines sophisticated exhibitions of its collections with provocative works by contemporary artists. Museum visitors will find challenging new perspectives on history, science, and art. The galleries are at Philosophical Hall, 104 S. Fifth Street, Philadelphia, right next to Independence Hall. Admission and all programs are free.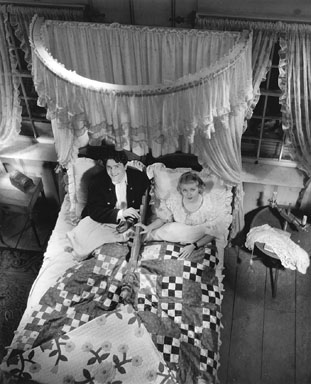 ---
FUTURE SECRET CINEMA EVENTS (more info soon):
Friday, August 15 @ William Way Center: AIDS Law Project movie party with Funny Face
Wednesday, October 1 @ American Philosophical Society Museum: to be announced
Tuesday, October 7 @ Eastern State Penitentiary: to be announced
Tuesday, November 11 @ Woodmere Museum: The Unholy Three
---
If you'd like to subscribe to announcements of upcoming Secret Cinema events, then e-mail us by clicking HERE. Please specify in your message where you are located.
Click HERE to learn the history of Secret Cinema.
Click HERE to read about recent Secret Cinema events.
RELATED LINKS:
Channel 29 news piece on Secret Cinema from 1999!
Secret Cinema 1999 Annual Report
Secret Cinema 1998 Annual Report
Secret Cinema 1997 Annual Report
Information about the 1998 Secret Cinema "Class Trip" to the Syracuse Cinefest
---
Last Updated: 7/16/14
WebMasters: Rodney Linderman & Jay Schwartz
© copyright 2014