Last Updated: 1/19/19


ALL SECRET CINEMA PRESENTATIONS ARE SHOWN IN 16MM (or larger!) FILM ON A GIANT SCREEN (NOT VIDEO...NOT EVER!)
---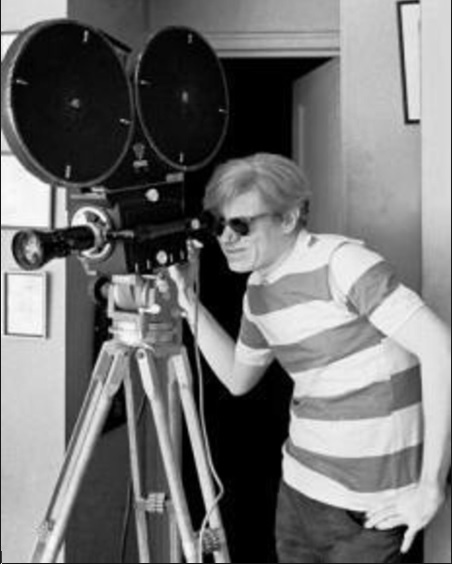 Andy Warhol and Friends:
'60/'70s Art Documentaries at Maas Building
Friday, January 25, 2019
8:00 pm
Admission: $9.00
The Maas Building
1325 N. Randolph Street, Philadelphia, PA
267-239-2851
On Friday, January 25, The Secret Cinema will return to the historic Maas Building with a new program showcasing documentaries from the 1960s and 1970s about the contemporary modern art world, with a heavy emphasis on Andy Warhol and his Factory scene. While we've previously presented several screenings devoted to films made by Warhol, we've never shown any of the films that comprise Andy Warhol and Friends: '60/'70s Art Documentaries (the "Friends" in our title refers to coverage of or comments by other major artists such as Robert Rauschenberg, Jackson Pollack, Willem de Kooning, and several others).
There will be one complete show at 8:00 pm. Admission is $9.00.
Andy Warhol and Friends: '60/'70s Art Documentaries will include:
Andy Warhol (1973) - This excellent, nearly hour-long look at Warhol at the start of the Seventies includes interviews with many friends and contemporaries of the artist and filmmaker, who is himself seen at the Factory, the Cannes Film Festival and the Brooklyn Museum. Many art works and film clips are presented, as are Henry Geldzahler, Barbara Rose, Emile de Antonio, Phillip Johnson, Taylor Mead, Brigid Polk, Viva, Paul Morrissey, Jasper Johns and many more. Andy is fascinating and funny as always, declaring that "Department stores are the new museums," and that he'd be a better president than Richard Nixon because, "I'd put carpets in the streets."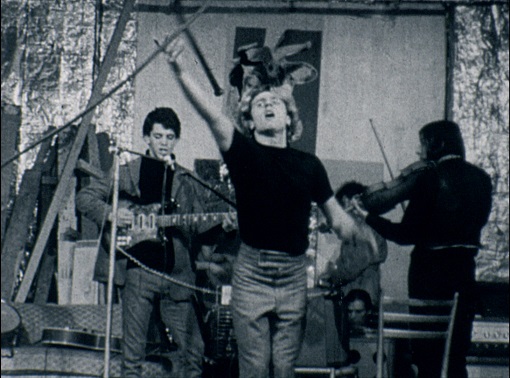 Andy Warhol and Roy Lichtenstein (1966) - This incredible film, from the golden age of cinéma vérité, was made by PBS-predecessor National Educational Television. It starts with a fairly relaxed interview with Pop Art pioneer Lichtenstein, who shows his studio. Warhol is then interviewed about various topics (including his legendary appearance at his ICA show in Philadelphia). He's then shown using silkscreens with Gerard Malanga, threading up The 13 Most Beautiful Women on his own 16mm projector in the Factory…and then discussing his new discovery, rock band the Velvet Underground. In the absolute best footage of the group that exists, the full original lineup perform live takes of "Venus in Furs" and "Heroin" while Andy and Gerard fill silver balloons with helium. If only we'd had access to this reel when we presented our Velvet Underground Film Festivals!
Art of the Sixties (1967) - This wide-ranging film was produced by Leonard Harris, culture critic for New York's WCBS-TV (and the actor playing Senator Pallantine in Taxi Driver!). Seen talking and working are artists Claes Oldenburg, Donald Judd, Robert Rauschenberg, George Segal, Jackson Pollack, Willem de Kooning, Franz Kline, light show artist Rudy Stern, installation artist Les Levine, filmmaker Len Lye, and more.
The Maas Building was previously a brewery and a trolley repair shop. This beautifully restored 1859 brick and timber workshop today serves as a multipurpose art event and catering space. Free street parking is available.
---
FUTURE SECRET CINEMA EVENTS (more info soon):
Sunday, February 3, 2019 @ Johnny Brenda's: D.J. Jay Schwartz spins It's a Sunshine Day (1960s sunshine pop)
Wednesday, February 20, 2019 @ Central Library: Our Changing City program
Thursday, March 14, 2019 @ Towson University, Maryland: Technology film program TBA
Tuesday, April 2, 2019 @ Woodmere Museum: Chestnut Hill Film Group screening B-Picture Double Feature featuring Youth Runs Wild and Madame Spy
---
If you'd like to subscribe to announcements of upcoming Secret Cinema events, then e-mail us by clicking HERE. Please specify in your message where you are located.
Click HERE to learn the history of Secret Cinema.
Click HERE to read about recent Secret Cinema events.
RELATED LINKS:
Channel 29 news piece on Secret Cinema from 1999!
Secret Cinema 1999 Annual Report
Secret Cinema 1998 Annual Report
Secret Cinema 1997 Annual Report
Information about the 1998 Secret Cinema "Class Trip" to the Syracuse Cinefest
---
Last Updated: 1/19/19
WebMasters: Rodney Linderman & Jay Schwartz
© copyright 2019